Far Cry 4's DLC Has A Punishing New Feature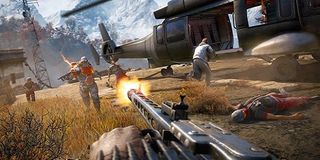 The next piece of major DLC for Far Cry 4 is set to release in just under a month, introducing a new scenario that sees players attempting to escape a prison and, more importantly, stay alive. That's right, Far Cry fans: It's time for some permadeath.
Okay, calling it permadeath is perhaps a bit of an overstatement, but when you're tackling a long list of new challenges and dying means you have to start all the way over from the beginning, there isn't a much better term for it.
Announced through the Ubisoft blog, the Escape from Durgesh Prison DLC is set to release across all platforms on Jan. 13 of next year. In the DLC, players will have to escape a prison and take on their captor, Yuma, but with the added challenges of racing against the clock, starting with no gear and, as I was just saying, avoiding death at all costs. There will even be a special leaderboard for this prison break content, giving you even more reasons to pull off the most expertly crafted escape imaginable.
As stated in the Far Cry 4 blog post, get dropped in your attempt at freedom and you'll need to go aaaaall the way back to the beginning of the mission.
"Kyrat is dangerous enough when you're fully armed and capable of respawning," reads the statement. "But facing the dangers of this treacherous nation… with nothing in your arsenal? That's going to be tricky."
A single player or co-op mission, Ajay and Hurk find themselves trapped inYuma's prison and completely defenseless. In order to reclaim your gear and skills, you're going to need to take care of some missions along the way. But, as the blog post reminds, you'll constantly be racing against the clock, too. Take too long and your escape helicopter will take to the sky without you.
This all feels reminiscent of games like Dark Souls, Spelunky or Rogue Legacy, which have helped re-popularize the idea of in-game penalties that actually matter. Similar to those roguelikes, too, each death should bring you one step closer to victory, so long as you're paying attention. AI behavior, the location of certain helpful items and the like will remain the same between playthroughs, so all you have to do is remember what you've been doing well and repeat it, avoid whatever got you killed in the first place, then trudge forward once again with the hopes of making just a little bit further.
If you happen to have a Far Cry 4 season pass, then you'll get the Durgesh Prison DLC at no extra charge as soon as it becomes available. Otherwise, you can grab the goods on Jan. 13 for $9.99.
Staff Writer for CinemaBlend.
Your Daily Blend of Entertainment News
Thank you for signing up to CinemaBlend. You will receive a verification email shortly.
There was a problem. Please refresh the page and try again.