Far Cry Primal Takes You To The Stone Age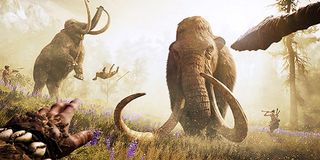 While most first-person shooters are pushing further and further into the future, the Far Cry series will soon be revisiting the past. And when we say "the past," we mean "the super-duper distant past." Get ready to fight some mammoths in Far Cry Primal.
Rumors started circulating earlier this week that Ubisoft was gearing up to announce a new Far Cry game. Based on the teaser image (a cave drawing of a hunter) rumors quickly settled in on a trip back to the days when mankind was just starting to move up the food chain. This was actually something hinted at earlier this year, with speculation circulating that the next game in the series would feature vampires or dinosaurs.
Now, thanks to a full announcement on the Ubiblog and a reveal trailer, we know that those hunches were 100 percent correct.
This is a huge departure from the norm not just for the Far Cry series, but for video games in general. This is likely due to the fact that setting a game in this era offers some tricky obstacles to overcome for a first-person action game, namely the lack of stuff like cities, guns and traditional interactions with NPCs. I think it's cool that the team decided to challenge itself with telling a story during this period in history, so fingers crossed that it turns out well.
According to Content Communications Manager Giancarlo Varanini, Far Cry Primal's goal is to drop the player into a world where danger truly lurks around every corner. As Takkar, you are the sole survivor of a hunting party and stranded far away from your tribe. You'll battle all sorts of killer critters in the stone age, as well as members of rival tribes.
As Varanini explains, fire will be just as important as the tools and weapons you'll craft, as it can be used to guide your way or misdirect enemies and animals you are hunting.
If the team can turn all of that into a lasting, entertaining adventure, gamers could be in for a real breath of fresh air when Far Cry Primal launches on Feb. 23 for Xbox One and PlayStation 4. The PC release is set for March. The trailer makes the game look like a full launch, so expect something closer to Far Cry 4 than the smaller, yet equally radical, downloadable Far Cry 3: Blood Dragon.
Staff Writer for CinemaBlend.
Your Daily Blend of Entertainment News
Thank you for signing up to CinemaBlend. You will receive a verification email shortly.
There was a problem. Please refresh the page and try again.