Final Fantasy XI Seekers Of Adoulin Content Now Available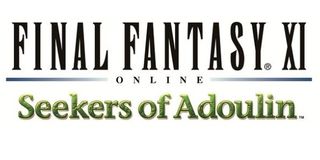 It's still going to be a while before Square Enix's next big MMORPG set within the Final Fantasy universe hits game consoles but, thankfully, the previous MMORPG set within the Final Fantasy universe is apparently still going strong. Final Fantasy XI's newest expansion, Seekers of Adoulin, is now available with service for the new content set to go live on PC and Xbox 360 starting tomorrow.
Honestly, I wasn't even aware that Final Fantasy XI was still around. Its last expansion, Wings of the Goddess, came out a good five years ago. So to say that Seekers of Adoulin's sudden appearance is unexpected would be a bit of an understatement.
"Marking the fifth major addition to the Final Fantasy XI adventure, Seekers of Adoulin features two new jobs," according to a press release from Square Enix. "Geomancers harness the elemental energies of Vana'diel to aid their comrades and attack enemies alike. As versatile duelists, Rune Fencers are quick with a blade as well as incantations, and employ the power of arcane runes to sway the tide of battle both offensively and defensively."
As an added bonus, renowned manga artist Kazushi Hagiwara designed the artifact armor and weapons for these new job types.
Along with the new jobs, players will be able to experience several other additions to the FFXI world, including the Ulbuka Continent and Sacred City of Adoulin, new monsters and new systems such as player-built outposts, new contracts and new "power spots" to locate.
You can grab the new expansion (opens in new tab) now and start enjoying it as of tomorrow. That should certainly help tide everyone over until Final Fantasy XIV re-launches, no?
Staff Writer for CinemaBlend.
Your Daily Blend of Entertainment News
Thank you for signing up to CinemaBlend. You will receive a verification email shortly.
There was a problem. Please refresh the page and try again.