Finn And Jake Become Master Detectives In Upcoming Adventure Time Title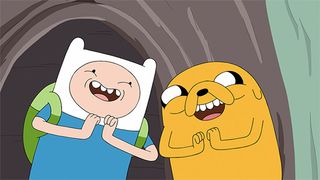 This fall, Jake the Dog and Finn the Human will break the laws of physics by crossing into the third dimension. A brand new, fully-3D Adventure Time adventure is heading to the Xbox One, PlayStation 4, and Wii U.
According to a press release, Adventure Time: Finn and Jake Investigations will follow the Cartoon Network's favorite psychedelic duo as they take up detective work. Players will solve a series of puzzles, interrogate witnesses, and battle evildoers while unraveling the Land of Ooo's latest mystery.
The title is being co-published by Little Orbit and Cartoon Network, and Vicious Cycle Software is handling the development. If you've played Ben 10: Omniverse or the Marvel Trading Card Game, you're already familiar with Vicious Cycle's work.
Pete Yoder, the Cartoon Network's vice president of enterprises in North America, described Finn and Jake Investigations this way:
Unfortunately, the video game industry hasn't been kind to Adventure Time. Even though the franchise's fan base is gigantic, the games have always felt like they were being held to gather with duct tape and band-aids. However, Finn and Jake Investigations is definitely taking a different approach.
The 3D graphics are the most obvious difference. Little Orbit CEO Matt Scott said the publisher has received "a lot of fan feedback" asking for a 3D Adventure Time game. So, Vicious Cycle Software is ditching the previous titles' top-down perspective in favor of a 3D interface.
Here's what Mr. Scott had to say:
At the risk of sounding like a naysayer, though, I do have a question: why? Adventure Time's iconic art direction is a huge part of its success, so why not just make the game look like the cartoon?
Hopefully the developer has a legitimate reason behind the graphical shift. Adventure Time fans deserve a break from those duct-tape-and-band-aid jobbies.
Your Daily Blend of Entertainment News
Your Daily Blend of Entertainment News
Thank you for signing up to CinemaBlend. You will receive a verification email shortly.
There was a problem. Please refresh the page and try again.