Why Adventure Time's Creator Quit Running The Show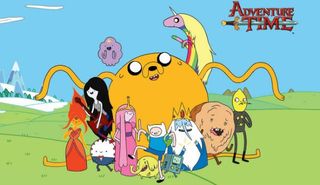 One of the most beloved animated shows on television has lost the love its own creator. Pendleton Ward, creator of the Emmy-yielding, cult-following TV hit, Adventure Time has decided to leave his title behind in hopes of regaining his own sanity.
In Season 5 of the show, Ward walked away without hesitation, and without warning. Fans were left awestruck and confused, without any hint of why their Adventure Time leader was putting down his crown. But, in a recent interview with Rolling Stone magazine, Ward broke his silence and opened up on the relief he felt from saying goodbye.
He wasn't sad to leave, or disappointed. Ward believes he honestly needed to let it go:
Among the 14 million viewers a week, the popularity of the show has spawned a massive merchandise empire. Adventure Time has become a household name. And for an introvert, like Pendleton Ward, the idea of that many people following your every move, is not an exciting prospect.
And in short, Adventure Time wore him out. Not the creation of new worlds and characters, it was the dealing with people, and requests, and pressures of being a showrunner. Ward decided to step down from his leadership role to become one of the show's writers and storyboard artists. He admitted in his interview that he prefers to be isolated. He realized his comfort zone, and he longs for it.
By stepping down from the empire, Ward hopes to get back to the creative end of things. He asserts that he has no intention of creating a new series, and finds that idea to be a nightmare. But, he is looking for a new challenge. He hopes to write an Adventure Time movie, as well as an original video game. And whatever his next task may be, Ward's in no rush. His own sanity depends on it:
Though a highlight of Adventure Time is that it's seemingly created by somewhat of a fried brain, over-frying may stray viewers away. And not worry because Ward chose his successor wisely. Adam Muto, classmate of Ward's at CalArts started on the show years ago as a storyboard artist and was trained to take Ward's place. Taking a break from the responsibility of being Adventure Time's showrunner may be just what Ward needs. Especially if we want to see a fresh take on his project of a new movie.
Your Daily Blend of Entertainment News