Former DICE Dev Claims DICE Isn't To Blame For Battlefield 4's Problems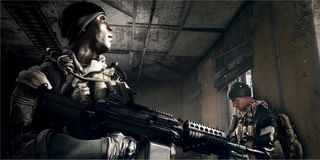 The mudslinging is starting and you can expect a lot of fireworks to spawn from this scenario. By now everyone knows that Battlefield 4 is quite broken, and one of the former team members of DICE has come to the aid of the highly praised developers to note that it wasn't DICE's fault that Battlefield 4 shipped broken.
Pixel Enemy spotted the tweets from former gameplay designer at DICE, who now works at Rovio, comfortably designing mobile games for the masses.
Going by the handle fnatic stormonster, he states on Twitter that...
Funnily enough, he isn't the first one to defend DICE, or rather, dissipate blame to the higher-ups.
Just a short while ago, law firm Holzer Holzer & Fistel LLC started investigating EA for potential fraudulent investment outlooks propagated by the company for Battlefield 4. As noted on The Sixth Axis...
Maximum PC goes into a bit more detail, noting that the investigation centers around whether Electronic Arts was completely upfront about the sales and investment potential of Battlefield 4, given that the game was obviously not ready to ship when it did on October 29th.
The game has been riddled with bugs since launch, so much so that it has actually affected the roll out of the game's intended DLC. It should go without saying, that delaying DLC affects EA's bottom line and, in turn, affects the market portfolio and performance of Battlefield 4.
Even more than that, gamers across all platforms are reporting a lot of major bugs and crashes in DICE's latest shooter. One of the main culprits for the problem is obviously that it's a cross-generational release, which means that DICE had to port the game from PC to Xbox 360, Xbox One, PS3 and the PS4. It's easy to see how this could create major issues for a high-profile game like Battlefield 4, especially when it relies on a lot of high-end effects and features that come along with DICE's proprietary technical design engine, Frostbite 3.
Nevertheless, HH& Fistel LLC actually may have a case on their hands given that all they would need to do is gather up a few YouTube videos of Battlefield 4's crashes and bugs between the game's release up until the announcement that EA put a delay on future DLC to have the bugs fixed; a few news reports about the DLC being delayed due to the bugs and any sort of official statement from EA that the game would be ready to ship on October 29th prior to the game's actual ship date. None of those should be terribly hard to gather up. I would wish EA good luck, but then I would be lying.
Staff Writer at CinemaBlend.
Your Daily Blend of Entertainment News
Thank you for signing up to CinemaBlend. You will receive a verification email shortly.
There was a problem. Please refresh the page and try again.