Fray, Turn-Based Strategy Game Enters First Beta Phase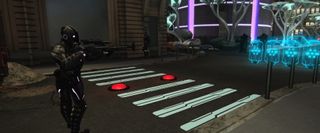 Ever since 2K Games originally announced the first-person shooter XCOM game years ago, a lot of gamers and indie devs felt sick to their stomachs. It wasn't just that the beloved turn-based strategy game X-Com was getting the FPS treatment, but it was that the current-gen take on the classic franchise was a far cry from what made the original so popular.
Since then, many developers have been gaining traction and a spotlight for games that could be considered true successors to the X-Com legacy, one of those games happen to be Fray, a semi-turn-based strategy title that takes a few innovative liberties with the genre. The game has slowly been picking up steam lately and that's definitely good news for fans of action-oriented strategy titles.
Brain Candy's upcoming strategy title has been slowly evolving throughout the development phase, and they've finally exited the alpha testing stage and have announced that they are fully engaged in Fray's first phase of beta testing.
Generally, the game is a futuristic cyber-thriller where players will lead a small squad onto the battlefield to takedown foes. As usual, there's plenty of weapons, customization options and a deathmatch and team deathmatch mode. The game seems eerily similar to a cross between Syndicate (not the recent remake) and Incubation.
The game is still heavy in the development phase but gamers who are keen on getting a taste of what Fray has to offer with its unique atmosphere and gameplay, can do so by paying a visit to the Official Desura Website where Brain Candy has the beta available for download.
Those who pre-order the game will receive the game and a free CD-key that they can share with a friend. Pre-orders also contribute to the game's continued development, similar to titles like Interstellar Marines. You can learn more about Fray and its first phase of beta by visiting the Official Website.
Staff Writer at CinemaBlend.
Your Daily Blend of Entertainment News
Thank you for signing up to CinemaBlend. You will receive a verification email shortly.
There was a problem. Please refresh the page and try again.