Free PS3 Giveaway With Quantum Of Solace Web Game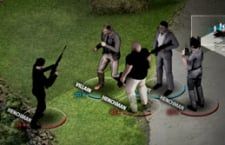 I don't know about anyone else, but if I didn't have to write this news story I would be at the website playing the 007 web game of Quantum of Solace while gulping down a shaken, not stirred, martini. It's all because of the simple fact that for the next eight weeks, leading up to the release of the game, Activision will be giving away free PlayStation 3 units.
It's rare that a web game is actually worth playing, but in this case it's not just a pastime for fun, but an actual means to which you can use the rewards found within the web game to unlock screenshots, artwork and other goodies from the Quantum of Solace Rewards Page.
At this point you probably want the darn link so you can get to crackin' on that web game, eh? Well if I told I didn't feel like giving you the web link. What if I told you that maybe I would keep it for myself and earn all the goodies for numero-uno? What would you do, huh? What...would...you...do? You would probably go to another website that has the link. Preferably Kotaku...because we all know how much they need the hits right now.
Anyway, without further ado, you can go to the Official Sony Pictures Entertainment Website to play the 007 web game and earn a shot at winning a free PlayStation 3 entertainment system by entering the sweepstakes.
Staff Writer at CinemaBlend.
Your Daily Blend of Entertainment News
Thank you for signing up to CinemaBlend. You will receive a verification email shortly.
There was a problem. Please refresh the page and try again.