Free-To-Play Warhammer Online: Wrath of Heroes Announced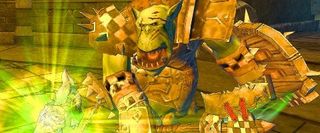 BioWare will be getting in on the new free-to-play craze. Today they announced Warhammer Online: Wrath of Heroes, a PC player-versus-player game based on the MMO Warhammer Online: Age of Reckoning.
"Warhammer Online: Wrath of Heroes will advance online action games by delivering instant, fast-paced, and competitive PvP arena gameplay – for free!" says BioWare. "In this thrilling game, players form three teams and will dive into epic 18-player battles using a variety of characters and iconic Warhammer Online heroes, settings, and weapons. The course of conflict can quickly turn against you as players switch from one hero to another mid-battle, and alliances between the teams are forged – and broken."
There's no mention of how the game will support itself financially. Presumably you'll be able to purchase optional items for real money. These optional sales - known as microtransactions - are the common way that free-to-play games turn a profit.
For a chance to play in the closed beta, head to the game's website. The game's public launch is scheduled for Fall 2011 for North America and Europe.
Your Daily Blend of Entertainment News
Staff Writer at CinemaBlend.