Full List Of Songs For Guitar Hero: Metallica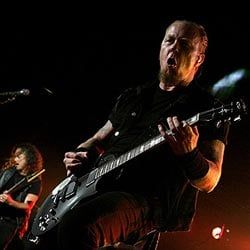 We already knew about half the tracks appearing on Guitar Hero: Metallica but now we got 'em all. An announcement on the band's official website has revealed all 49 songs appearing in the game:
Metallica Songs:
All Nightmare Long
Battery
Creeping Death
Disposable Heroes
Dyers Eve
Enter Sandman
Fade To Black
Fight Fire With Fire
For Whom The Bell Tolls
Frantic
Fuel
Hit The Lights
King Nothing
Master of Puppets
Mercyful Fate (Medley)
No Leaf Clover
Nothing Else Matters
One
Orion
Sad But True
Seek And Destroy
The Memory Remains
The Shortest Straw
The Thing That Should Not Be
The Unforgiven
Welcome Home (Sanitarium)
Wherever I May Roam
Whiplash
Other Artists:
Alice In Chains - No Excuses
Bob Seger - Turn The Page
Corrosion of Conformity - Albatross
Diamond Head - Am I Evil?
Foo Fighters - Stacked Actors
Judas Priest - Hell Bent For Leather
Kyuss - Demon Cleaner
Lynyrd Skynyrd - Tuesdays Gone
Machine Head - Beautiful Mourning
Mastodon - Blood And Thunder
Mercyful Fate - Evil
Michael Schenker Group - Armed and Ready
Motorhead - Ace of Spades
Queen - Stone Cold Crazy
Samhain - Mother of Mercy
Slayer - War Ensemble
Social Distortion - Mommy's Little Monster
Suicidal Tendencies - War Inside My Head
System of a Down - Toxicity
The Sword - Black River
Thin Lizzy - The Boys Are Back in Town
If you previously downloaded the Death Magnetic song pack for the Xbox 360 or PS3 version, you'll also be able to play it with GH: Metallica. Meanwhile, those of you who buy the PS2 or Wii versions of GH: Metallica will get three songs from Magnetic - "Broken Beat & Scarred," "Cyanide" and "My Apocalypse" - on the game disc itself to compensate for the lack of DLC support. The game will ship for Xbox 360 and PS3 on March 29th and is expected in early May for PS2 and Wii.
Staff Writer at CinemaBlend.
Your Daily Blend of Entertainment News
Thank you for signing up to CinemaBlend. You will receive a verification email shortly.
There was a problem. Please refresh the page and try again.