Fundraiser To Change Mass Effect 3 Ending Is Shutdown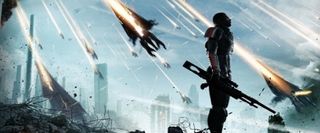 [Update: Child's Play project manager Jamie Dillion further clarifies why the campaign was shutdown and it wasn't because gamers were misinformed about where the money was going.]
If you've been keeping track of all the Mass Effect 3 ending drama, then you might have come across the news that a group was using Child's Play to raise money for the charity in order to convince BioWare to change the ending for Mass Effect 3. The name of the initiative was called "Retake Mass Effect 3".
After more than $80,000 raised in charity, Penny Arcade, the founders of Child's Play, have announced that they have brought the fundraiser to an end due to a lot of people not realizing that the money wasn't going directly to BioWare.
Genius Gamers reports that the whole thing came crashing down due to a lot of people just not being informed enough about what Retake Mass Effect 3 was all about.
The fundraiser's organizer, Robb, shared a message to the community about the results of the drive, and according to VG 24/7, he had this to say...
The thing is, a lot of people were contacting the Child's Play group to find out how much was needed to change the Mass Effect 3 ending, or what it would cost to get the ending altered, etc., etc. Child's Play has had no direct dealing with getting Mass Effect 3's ending changed. It was just an indirect outlet used to raise money, which in turn was used to raise awareness to BioWare in order to get the ending changed.
It is true that Dr. Myzuka did respond to the community about changing the Mass Effect 3 ending. So the $80,000 certainly wasn't in vain.
VG 24/7 further reports that project manager Jamie Dillion took to Reddit to issue the following statement to quell some of the negative backlash about ending the fundraiser, saying...
Well, in the end at least gamers are going to get what they wanted, a bunch of kids were able to get what they wanted, and the Child's Play organization definitely got what they wanted. And I'm sure if the new Mass Effect 3 ending is paid-for DLC, EA will definitely get what they want. So everyone wins.
Staff Writer at CinemaBlend.
Your Daily Blend of Entertainment News
Thank you for signing up to CinemaBlend. You will receive a verification email shortly.
There was a problem. Please refresh the page and try again.