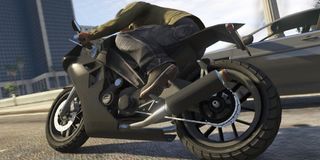 Back when Rockstar Games first announced the Special and Collector's Editions for Grand Theft Auto 5, they mentioned that each would come loaded with in-game bonuses. Today they provided screenshots and details for each of these perks.
Both versions will unlock two bonus guns, the .50 Caliber Pistol and the Bullpup Shotgun. These powerful weapons can be purchased at Ammu-Nation locations throughout Los Santos and Blaine County for no charge. Each comes with its own set of skins, attachments and other options.
Trevor, Michael and Franklin will also have new outfits to go along with these weapons. The Special and Collector's Edition unlock a new article of clothing, haircut, facial hair and tattoo for each character. The trio will also get a 20% discount at clothing shops.
In GTA 5, each character has a special ability. Michael can slow down time, Max Payne style, in order to pick off enemies in a firefight. Franklin can also slow down time but only while driving road vehicles. Trevor's special ability is a sort of berserker rage, doubling the damage he deals while halving the damage he takes. The Special and Collector's versions of GTA 5 boost the regeneration of these abilities by 25%.
The last bonus shared between the two bundles is a set of Stunt Plane Trials. These five trials are checkpoint-based trips through the skies above Blaine County. As players fly their Stunt Plane through these courses, they'll boost their character's piloting skill. Leaderboards will track the performances of players across the world.
The Collector's Edition also adds new customization options for Grand Theft Auto Online, the multiplayer component to GTA 5. In GTA Online, players determine the appearance of their character by choosing their parents. Using a gene dominance meter, they can choose which parent will have more of an effect on the character's appearance. The CE provides a few interesting parent options: Claude and Misty from Grand Theft Auto III, as well as Grand Theft Auto IV protagonist Niko Bellic. Those are going to be some ugly, ugly kids.
Collector's Edition owners will also get a bonus garage to store customized vehicles. In GTA V's campaign, the garage contains a CarbonsRS sports bike and the Hotknife, a 1930's style hotrod. For GTA Online, the garage and an exclusive Khamelion electric car can be purchased through a character's cell phone.
Check out Rockstar's website for a list of retailers offering the Collector's and Special Editions. Pre-ordering any version of the game will unlock an in-game Atomic Blimp.
Image 1 of 3
Your Daily Blend of Entertainment News
Staff Writer at CinemaBlend.