GTA 5 Heists Song Turns Frustration Into Beautiful Music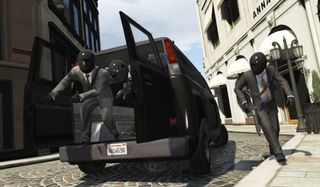 Bored GTA 5 players keep finding creative ways to keep themselves amused while waiting for the cooperative heists. A group of musically inclined gamers have created an original song pleading with Rockstar to release heists for GTA Online.
A lot of game-inspired YouTube songs are parodies of top 40 hits with questionable production values. Francis' Titanfall/Wrecking Ball parody comes to mind. "Please Give Us Heists" is still technically a parody, as it's sung to the tune of "Demons" by Imagine Dragons. However, singer "MsLuuna" really sells the thing with some fantastic vocal work.
As the song mentions, Rockstar Games originally planned to add heists to GTA Online this spring. However, that didn't happen. In June, they announced that the feature was taking "more time to create than originally anticipated." They've declined to announce a new release window.
Players have found ways to pass the time, though. One gamer created a website mocking the long delay. Other gamers have staged elaborate fake heists within GTA Online.
Gamers who dug through GTA Online's files have found some clues as to the heists' content. The leaked animations and mission descriptions suggest that players will be able to rob banks and even raid the FIB headquarters.
Rockstar Games generally releases one content update for GTA Online per month. The August update, Patch 1.16, hasn't been announced or released yet. There's a chance that it could include heists. That may explain why it's a bit behind schedule:
The full lyrics from "Please Give Us Heists" are below, in case you're curious.
Your Daily Blend of Entertainment News
Staff Writer at CinemaBlend.