GTA 5 Online Heists Delayed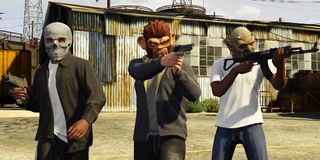 Today Rockstar Games confirmed what you probably already suspected: co-op heists for GTA Online won't be released by the end of the Spring as planned. The company explained the delay in a brief note to fans.
"For those of you asking about other upcoming GTA Online updates, we have lots more in store coming your way soon," Rockstar said this morning on their Newswire. "We know many fans have been eagerly awaiting the release of the Online Heists that we had planned to release for you this spring, and they are taking more time to create than originally anticipated."
"We are very sorry for the delay, and are working hard to bring them to you as soon as we can. Please know that we are focused as always on making the best possible content for you to play and we are thankful to all of you for your patience, understanding and support. Stay tuned for more information on that as well as lots of other ongoing content updates, enhancements and additions to the world of GTA Online that are on the way."
The developers have been talking about co-op heists since last year. It's far and away the most desirable feature on the way for GTA Online. The elaborate heists of GTA 5's campaign were the best part of the single-player experience, so it's no surprise that there would be a huge demand for the multiplayer equivalent. Who wouldn't want to pull off an epic bank robbery with friends in Los Santos?
The amount of time that Rockstar's been teasing co-op heists is a double-edged sword, though. After such a long wait, players are going to have high expectations for these heists. It makes sense that the company would take their time to ensure that this feature is as polished as possible. After all, it's not like they're making a sequel to GTA 5 anytime soon.
Rockstar has been releasing one major free update for GTA Online per month since February. Gamers were hoping that the June update would add online heists to the game. However, the new content turned out to be "I'm Not a Hipster."
The "I'm Not A Hipster" Update, which launched on Xbox 360 and PS3 yesterday, is similar to previous content packs. It provides new weapons, vehicles, wardrobe options and missions for the game. As the name of the DLC implies, all of the new additions have a hipster theme. It should fulfill many (?) players' dreams of dressing their character like an artisanal soap maker from Brooklyn. Maybe that'll be enough to keep your GTA Online boredom at bay.
While you wait for online heists to be added to GTA 5, I'd strongly recommend watching the mock heist videos have created over the past few months by players. Some of them are really hilarious. You can see the best videos here and here.
Your Daily Blend of Entertainment News
Staff Writer at CinemaBlend.