GTA Online Heists Information Revealed By Source Code?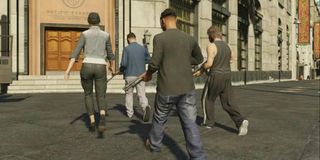 Alleged details on the GTA Online Heists Update were uncovered by players digging through the game's source code. They shed some light on the types of missions included with the highly anticipated update.
The details were summarized by DomIsLive in a recent video. The (again, alleged) mission list is as follows:
I assumed that the Heists Update would just include, well, heists. The mention of territory battles and hooker transportation aren't the sort of co-op efforts I was expecting. Maybe Rockstar is planning to diversify the DLC's content with competitive and solo missions. It could also be possible that some of these Jobs are actually for later updates.
Or maybe this information's just fake. The more popular a game is, the more likely that someone's passing around false information. Fallout fans are keenly aware of this rule of thumb. DomIsLive debunked some fake screenshots of the Heists Update in a more recent video:
Rockstar initially announced GTA Online's heists for a Spring release. Last week, they announced that they would miss that goal.
"We are very sorry for the delay, and are working hard to bring them to you as soon as we can," the company said in a note to players. "Please know that we are focused as always on making the best possible content for you to play and we are thankful to all of you for your patience, understanding and support."
Staff Writer at CinemaBlend.
Your Daily Blend of Entertainment News
Thank you for signing up to CinemaBlend. You will receive a verification email shortly.
There was a problem. Please refresh the page and try again.