GTA 5: How To Transfer GTA Online Characters To Xbox One, PS4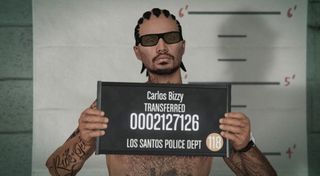 Now that Grand Theft Auto V has officially launched for those with eighth generation home consoles, it's probably become apparent that those who originally owned the game on the Xbox 360 and PS3 will probably want to transfer over their GTA Online character and stats. Well, here's how you do it.
Over on the Rockstar support forum, the company rolls out a step-by-step list on how to transfer over your character from the old-gen consoles to the new-gen consoles.
So first up you're going to need a copy of GTA V, a Rockstar Social account and either a PSN or Xbox Live account.
You'll need to link your Rockstar Social account to your PSN or Xbox Live ID. You can learn how to do that by clicking here.
On the Xbox One or PS4, enter the game and pull up the Character Select Wheel or the pause menu. If your account has been successfully linked to the Rockstar Social platform, you'll have the option to import your character.
One thing to keep in mind is that if you already started a new character on the PS4 version of the game, it will be erased...
On the Xbox One the same rule applies, however they will combine your existing character's in-game money while the transfer process commences.
All the character in-game money, EXP, in-game properties, crews, Achievements, Trophies and stats will be transferred over. Players will also have the option of modifying the way their character looks before finalizing the transfer.
You will still be able to dabble into the seventh-gen versions of the game with your old character following the transfer, but their progress will stay on the Xbox 360 or PS3.
It's noted on the site that the transfer process can only be done once, so you won't be able to keep transferring over your old characters to stack your money (assuming you were attempting to do such a heinous thing you 'ole devil, you).
IGN also made a pretty simple two-minute video about transferring your character over if you need some help getting your characters from the old seventh-gen consoles to the new eighth-gen consoles.
You can pick up a copy of GTA V right now for the PS4 and the Xbox One, in addition to the Xbox 360 and PS3.
Additionally, you can check out some codes for the GTA V version of the game for the Xbox One and PS4.
Staff Writer at CinemaBlend.
Your Daily Blend of Entertainment News
Thank you for signing up to CinemaBlend. You will receive a verification email shortly.
There was a problem. Please refresh the page and try again.