GTA 5 PC Delayed To 2015, PS4 And Xbox One Versions Coming In November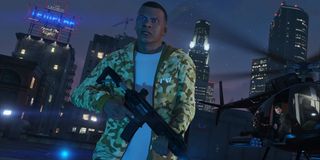 Rockstar Games has finally announced the release dates for the Xbox One, PS4 and PC versions of GTA 5. PC gamers won't be too happy about the news.
GTA 5 will launch on Xbox One and PS4 on November 18th. The PC version, however, won't be out until January 27th. Looks like those 2015 delay rumors were half-right.
The new-gen versions of GTA 5 will have much improved visuals compared to the PS3 and Xbox 360 editions. Rockstar promises higher resolution graphics, increased draw distance, a new foliage system and enhanced weather effects. Damage will be more detailed as well.
The game offers new content on PS4/XB1/PC as well. Players will find new weapons, vehicles and activities throughout Los Santos and Blaine Counties. There are over 100 new songs spread across 17 radio stations. All of the post-launch content that GTA Online received on PS3/360 so far will be included as well. .
Players who own the PS3 or Xbox 360 versions apparently won't get a discount on buying one of the new versions. However, they will get exclusive DLC.
"A host of new, exclusive content also awaits for players returning from the PlayStation 3 and Xbox 360 versions including rare versions of classic vehicles to collect from across the Grand Theft Auto series such as the Dukes, the Dodo Seaplane and a faster, more maneuverable Blimp; activities, including wildlife photography; and new shooting range challenges, new weapons and more," says Rockstar Newswire.
All you need to do in order to get this new content is complete the Prologue in the PS3 or Xbox 360 version of GTA 5 while online. Note that you'll need a Rockstar Social Club account as well. Additional details on this upgrade bonus will be announced through Rockstar Support.
The player count for GTA Online has also been boosted for the new-gen release. Rockstar says that online matches will support up to 30 players on PS4 and Xbox One. They don't confirm what boost, if any, the PC version will get then.
GTA 5 players on PS3 and Xbox 360 can transfer their GTA Online characters over to the PS4/XB1/PC. There are no restrictions on this transfer, though. You can choose between any of the three new versions regardless of whether you bought the PS3 or Xbox 360 version.
The last bit of news Rockstar announced today was a pre-order bonus. Anyone who reserves a copy of the PS4, Xbox One, or PC versions of GTA 5 will get $1 million in in-game cash. Half goes to your Story Mode characters and half goes to your GTA Online bank account.
This poll is no longer available.
Your Daily Blend of Entertainment News
Staff Writer at CinemaBlend.
Your Daily Blend of Entertainment News
Thank you for signing up to CinemaBlend. You will receive a verification email shortly.
There was a problem. Please refresh the page and try again.