GTA 5 Updated With New Jobs, Activities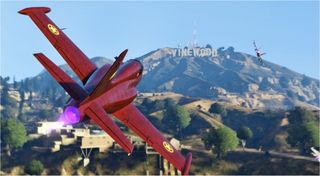 Rockstar is continuing to roll out updates and new missions, activities and jobs for those of you who enjoy playing online and partaking in the most recent update called the San Andreas Flight School, which adds new vehicles, aerial tasks and cooperative mayhem.
Over on the official Rockstargames.com website they roll out a ton of new activities that gamers will be able to partake in on the Xbox 360 and PlayStation 3 versions of Grand Theft Auto V's online portion of the game.
The San Andreas Flight School update dropped back on August 19th, opening up plenty of new opportunities and features for gamers, including improved rewards for completing missions, additional re-balancing for cash and RP, as well as flying missions, new vehicles, training and plenty of fixes.
The latest update includes three new Vs Missions, including Acquire Targets, Air Force Zero & G-Rating. Rockstar also added an all new playlist of jobs with bonus RP handed out all week long.
Two new contact missions have also been added to the update, including the new four player "Chop Chop" mission that sees players having to hack into the Merryweather Security network and then steal a copter. "Effin' Lazers" sees players having to take out some "product" by using a Lazer fighter jet to bring down the enemy jets.
The new parachute mission for up to eight players takes place on the Airstrip and is made for players Rank 11 or higher. Additional activities includes a race called Branching Out for Rank 20 or higher players, taking place in the outskirts of San Andreas where cultists, farms and wilderness are the race's backdrop.
Another race includes Flying Colors for Rank 12 players that sees players flying around the rural areas of Eastern Blaine County, low and fast.
High Dive is a point-to-point race that sees players zooming through Tongya Hills in jets. It's an easy race for players that are only Rank 1, so it's a good entry-levl activity. On the upper-end of the scale is a Rank 35 race called In The Loop that sees players having to race fast and furiously through the docks and downtown areas.
These latest missions for GTA V are currently live right now, but I'm sure most gamers are more-so curious as to when heists will be made available in the online portion of the game? They sounded like they could have been fun, as described in the videos leading up to release. However, one delay after another have prevented them from making an appearance in the final game. The delay of the heists frustrated a lot of fans, but maybe Rockstar will make up for it in a big way -- they're already attempting to do so with the San Andreas Flight School updates.
Many gamers are probably looking forward to GTA V dropping this fall for the Xbox One, PS4 and PC. Whether or not these latest San Andreas updates will make the cut (and hopefully they will) remains to be seen, but let's hope that at least the eighth gen consoles and PC version will launch with the highly anticipated heists.
Staff Writer at CinemaBlend.
Your Daily Blend of Entertainment News
Thank you for signing up to CinemaBlend. You will receive a verification email shortly.
There was a problem. Please refresh the page and try again.