GTA Online's Servers Have Been Down And Players Aren't Happy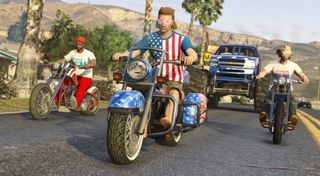 GTA Online has gone down and is mostly back up, but a lot of gamers haven't been happy about it. The downtime ate into the daily schedule of completing certain quests and every gamer was at Rockstar's mercy as the company tried getting things back up and running.
VG 24/7 is reporting that the servers were down for well over 10 hours. This resulted in a lot of players becoming unhappy at the results, posting a lot of messages on Twitter and social media to express their disappointment. Eventually, Rockstar was able to get the servers up for most of the platforms, including the seventh generation Xbox 360 and PS3, PC and Xbox One. As of the time of writing this article, the PS4 is still not fully up and repaired yet if you check the GTA Online server status page.
The continued downtime – especially for a system as popular as the PS4 – has caused a lot of frustrations and unhappiness amongst PlayStation 4 owners. Tweets are still circulating around the hashtag for GTA Online, with some users reminding Rockstar Games that the server availability is still limited for PS4 owners.
I imagine Rockstar will definitely want to ensure PlayStation 4 owners are able to dive back into GTA V's online component given how popular the game is on Sony's latest generation home console. The system makes up a large part of the 54 million copies shipped of GTA V over the past three years, as noted by Metro, and is one of the three systems that actually allows players to participate in the GTA Online heists and other new features not available on the Xbox 360 and PS3.
Server downtimes are to be expected in this day and age in gaming, though. Always-on services render gamers' fun and entertainment as an availability that is only allowed at the behest of the technology. If the servers go down, so does your fun and entertainment.
Some gamers have been quite vocal about the shift of moving a lot of content onto cloud-based or online network services. When there's trouble on the console manufacturer's end, it means that you can no longer access your games, just the same as when there's trouble on the publisher's end or when your own ISP starts giving you trouble. It all results in you no longer having access to your online-oriented games.
Nevertheless, GTA Online has been a gold mine for Rockstar so far and they've been selling Shark cards (microtransactions) for the game in droves. According to an interview on PC Invastion, the Shark cards is what led some of the modders of the custom multiplayer servers -- that are no longer in operation -- to assume that the shark cards is the reason Take-Two Interactive had the custom multiplayer servers shut down for GTA Online.
Either way, the downtime for the game has frustrated some members of the gaming community and they probably won't turn their frowns upside down until server functionality is fully restored to 100%.
Your Daily Blend of Entertainment News
Staff Writer at CinemaBlend.