Game Stocks Plummet: Game Industry Is Not Recession Proof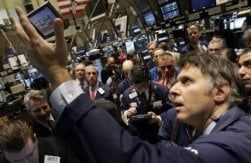 For anyone with common-sense I'm sure the word "Duh" comes to mind. Only economic analyst who couldn't see past their blatant ignorance of video game trends would assume that the gaming industry was impervious to the ever deepening recession. News has surfaced that suggest otherwise.
According to an article on GamingFront.Net it looks like stocks from the automakers, banks and lenders aren't just getting beat over the head, but video game corporations are also taking a back-alley beating. Vivendi lost 15 points overnight, Gamestop was down 8 points and Sony took a 4 point hit. Ouch.
Chief Executive Officer of Vivendi Jean-Bernard Levy commented to Bloomberg.com over the global recession and how it's affecting Vivendi, saying, "We are resilient, but at one point in time I think we are going to be caught, mostly by unemployment. My biggest fear, for my business, is unemployment rates are going up." He went on to add: "We may end up with a pretty deep and long recession."
It's quite clear now: The game industry is royally getting stuck up the rear-end by the recession. You can check out the full article by dropping by GamingFront. For more gaming news, updates and info, be sure to stay tuned in with Blend Games.
Your Daily Blend of Entertainment News
Staff Writer at CinemaBlend.