Game Of Thrones Screenshots Reveal Castlewood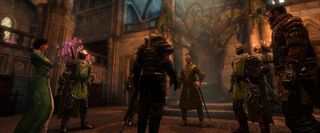 Focus Home Interactive, European publisher of Game of Thrones, showed off a new location from the RPG today. Castlewood, a location never seen in the Song of Ice and Fire books or HBO series, plays a key role in the game's plot.
"Today's screenshots turn their focus to the enigmatic place that's home to the House Harlton," reads the publisher's description of Castlewood. "Fifteen years ago, the Lord of Castlewood chose to support the House Targaryen during the victorious rebellion of Robert Baratheon, and was sentenced to die for this treason. His brother Arwood Harlton, loyal to King Robert, finally inherited Castlewood. Arwood is also known to be a great friend of House Sarwyck, and as the heir of Sarwyck family, you, Alester, will use Castlewood as a safe place to retreat if your quest turns too dangerous."
Alester, a Red Priest, is one of two playable characters in the game. He and Mors, a brother of the Night's Watch, set out on a quest that will take them across Westeros. They'll travel to many locations from the novels and TV show, including The Wall and King's Landing, and also meet many of the notable figures in the kingdom. The campaign is said to be over 30 hours long.
Thrones will be released in May on the PS3, Xbox 360 and PC. Atlus, the North American publisher, revealed yesterday that select retailers will be giving art books to pre-order customers.
Image 1 of 6
Your Daily Blend of Entertainment News
Staff Writer at CinemaBlend.
Your Daily Blend of Entertainment News
Thank you for signing up to CinemaBlend. You will receive a verification email shortly.
There was a problem. Please refresh the page and try again.