Game Of Thrones Season 4 Episode 1 Now Free To Watch On Xbox 360 And Xbox One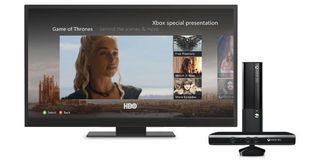 If you still haven't watched the Season 4 premiere of Game of Thrones, Microsoft is now giving you an alternate method to see it. Xbox One and Xbox 360 owners can watch the first episode of the season for free.
"When you sign in to Xbox Live today, you'll notice an awesome new hub on your home screen full of Game of Thrones special features where you'll find access to the big return episode for the next week," Microsoft said on Xbox Wire. "Also included in the hub are behind-the-scenes videos, featurettes, trailers and exclusive interviews with the cast of Game of Thrones from SXSW with Xbox's Blain Howard."
The Game of Thrones hub also recaps the previous season if you need a refresher before diving into Season 4. Fans confident in their Thrones knowledge can test their memory with a quiz.
Unlike many other entertainment features of Xbox 360 and Xbox One, the free episode won't require a subscription to Xbox Live Gold. All you need is an Internet connection. The only catch is that the episode will only be available to watch through Xbox Video until April 14th.
If you have an HBO subscription, you can watch every episode of Game of Thrones on-demand through the HBO Go app. The HBO Go app does, however, require Xbox Live Gold. Furthermore, the app's only on Xbox 360 at the moment. An Xbox One release date hasn't been announced yet.
"Two Swords," the first episode of Season 4, debuted on Sunday night. To no one's surprise, a lot of people watched it. The influx of HBO Go users was enough to crash HBO Go:
This free Xbox Live showing should help some of those frustrated viewers finally watch the episode. In case you're wondering, the free episode isn't just an elaborate band-aid by HBO for the HBO Go issue. The company told Variety that their partnership with Microsoft has been in the works for awhile.
After you've watched "Two Swords," check out TV Blend's analysis of the episode and speculation for season 4.
Image 1 of 6
Your Daily Blend of Entertainment News
Staff Writer at CinemaBlend.