GameStop Pulling PSP Games From Stores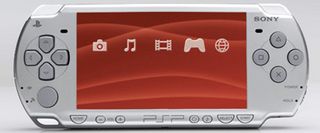 GameStop is looking to free up some space in their stores. The American retailer has decided to pull PlayStation Portable games from a quarter of its stores in the United States.
They're not just tossing all these games into the incinerator, though. A GameStop rep speaking with Kotaku characterized the move as "consolidation." In other words, they're taking the PSP games from one quarter of their smallest stores and putting them in the other three-quarters. GameStop mentions that that the stores that still carry PSP games will have a greater assortment of titles as a result of this move.
Some of the games will no doubt end up in the company's warehouses, too. GameStop plans to continue to sell PSP games through its website. If you're not near a location still selling PSP games, you can purchase select full games through PSN as well if you've storage space to spare.
GameStop's decision is just the latest sign that the PSP's days are coming to an end. The handheld's days were essentially numbered once Sony released its successor, the PlayStation Vita, earlier this year. The PSP's sales have been slowing long before the Vita's launch, though. It doesn't look like it has the staying power of the PS2.
Even if the PSP were still selling okay, it's the low man on the totem pole. GameStop's going to need room for the Vita's expanding library, as well as the upcoming launch of the Wii U. They don't have infinite space in their stores so some system had to take a hit. Perhaps the PSP will disappear from stores altogether once the successors to the Xbox 360 and PS3 arrive in a year or two.
Staff Writer at CinemaBlend.
Your Daily Blend of Entertainment News
Thank you for signing up to CinemaBlend. You will receive a verification email shortly.
There was a problem. Please refresh the page and try again.