GamersGate Kicks Off Summer Sale With Nearly 400 Discounts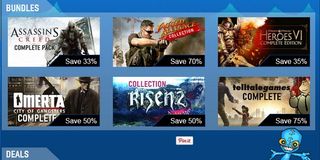 The summer sale season is in full swing as GamersGate announces its own month-long medley of discounts, starting today with savings of up to 70 percent off on single titles like Metro Last Light and DMC: Devil May Cry, as well as bundled offerings for games and DLC like Jagged Alliance and Kingdoms of Amalur: Reckoning.
This time of year is typically known as the "summer drought," a dead zone in new game releases in which few big titles make it to market as developers and publishers save some of their biggest offerings for the upcoming fall and holiday shopping windows. In order to help soften the blow, digital game providers often roll out big discounts on games new(ish) and old. Microsoft's own XBL sale wraps up today and tomorrow will mark the second week in Sony's PSN summer discounts. Today, however, PC and Mac fans can get in on the action with GamersGate's "Summer Sale," giving players a chance to snag daily and week-long deals in order to fill the hottest months of the year with games, games and more games.
"GamersGate, the leading digital distribution platform for PC and Mac games, today kicked-off its Summer Sale offering large discounts on a variety of digital video game titles ranging from AAA hits to indie favorites," reads a statement from the distributor. "Drawing from its catalog of more than 5,000 games, the sale is set to run from July 8 to Aug. 5 and will feature savings of 40 to 75 percent off."
Some sales will only last a day, others a week, giving would-be shoppers plenty of reasons to head back to GG on a regular basis over the next few weeks to find out what's on tap. Publishers included in the sale range from EA and Ubisoft, to Square Enix and Deep Silver.
Now that you know how the Summer Sale is going to work, let's take a look at this first batch of discounted titles. First up are the day's daily deals, including Forge for $5, Dante's rebooted adventures in DMC: Devil May Cry for $24.98, the post-apocalyptic shooter Metro Last Light for $33.47 and last year's winner of dozens of Game of the Year awards, The Walking Dead for $9.98. As of this writing, those titles have about 16 hours left at the listed prices, so act with a quickness if you want to add any of the above games to your digital library.
That's just the tip of the iceberg, though. Way more games are receiving discounts today and the full list of 378 sale titles can be found on the GamersGate front page. Just scroll on down to the bottom and prepare to empty your wallet.
As for this week's weekly deals, the Jagged Alliance Collection is available for 70 percent off. The Kingdoms of Amalur: Reckoning Collection and Telltalegames Complete bundle are both marked down by 75 percent while the Risen 2 Collection and Omerta Complete are both 50 percent off. Finally, Company of Heroes VI Complete Edition is marked down by 46 percent.
Staff Writer for CinemaBlend.