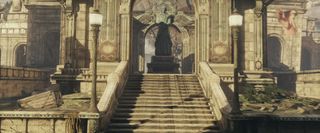 Epic Games announced the fourth (and potentially final) DLC pack for Gears of War 3 today. The "Forces of Nature" Map Pack will add even more content to the game's multiplayer in March.
"Nature" will introduce three new maps: Cove, Aftermath and Artillery. Epic is also throwing in two remade versions of maps from previous games: Jacinto and Raven Down. All the maps are said to take place during or after a natural disaster.
Nostalgic gamers will also get another treat: Guardian mode. Epic will be reviving the GoW2 game type and including it in this DLC. Guardian matches designate one player on each team as the leader. Once a team's leader is killed, other members of the team can no longer respawn.
If you play the new maps on Horde or Beast mode, you'll find new weapons called "Elemental Cleavers." These blades have unique special abilities; for example, the imulsion cleaver will explode on impact. The cleavers, along with seven new weapon skins and four characters, should make you look a bit more stylish in your online battles.
"Forces of Nature" will cost 800 Microsoft Points, or $10. If you own the GoW3 Season Pass, though, it's free. This is the last DLC that will be free for Pass owners. It's possible that this could be the last DLC for the game period, but Epic Games' Rod Fergusson says it's up to players whether they'll continue making new content.
"It's kind of a 'never say never' perspective," Fergusson told DigitalSpy. "We've completed the obligation for those with the season pass, so it's really now all about community demand and those sorts of things and what people want. But I mean, it takes a lot of effort to create DLC, and in terms of internal resources and what we're focused on, that kind of stuff. It's really driven by player demand. If players are dying for it and they want it, then it's something that we can definitely look at."
"Nature" will hit Xbox Live on March 27th.
Image 1 of 6
Your Daily Blend of Entertainment News
Staff Writer at CinemaBlend.