Gears of War is a Runaway Success for Xbox 360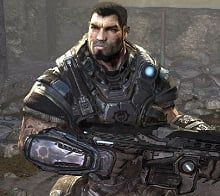 Microsoft knew that they'd have a hit on their hands with Gears of War. They probably are ecstatic over the fact that the game has sold over 1 million copies in the first two weeks of its release. This makes Gears of War the fastest selling game in Microsoft's history, for both the Xbox and the Xbox 360. Plus, there are over 850,000 fans playing the game on Xbox Live, with millions of actual online matches taking place. This has given Gears of War the #1 spot on XBL, and it's actually increased subscriptions to XBL by more than 50%.
Shane Kim, corporate vice president at Microsoft Game Studios had this to say about the runaway success of Gears of War: "From the very beginning, we knew 'Gears of War' would be an industry-defining hit. As we watched both the game and its hype grow, it became obvious that 'Gears of War' was the rare title that could live up to such incredible anticipation, and judging from the reaction of critics and fans, it's done just that."
If we could ever see under Master Chief's helmet, he'd probably be crying right now. Cheer up, buddy; at least you've got Cortana. It's too bad that she's a hologram, though. Darn.
On top of all this, Gears of War has been consistently reviewed as one of the best games of the year by the various industry publications, making it a cult-classic that's gained both a critical and mainstream success. The scary thing is that the post-Thanksgiving holiday shopping season is still to come, and Gears of War is bound to post greater sales and XBL numbers in the coming weeks.
Your Daily Blend of Entertainment News
Thank you for signing up to CinemaBlend. You will receive a verification email shortly.
There was a problem. Please refresh the page and try again.