Ghost In The Shell Multiplayer Shooter Announced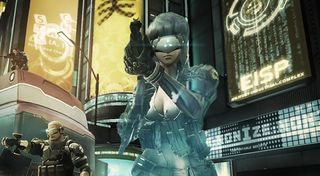 Nexon announced that there's a new free-to-play multiplayer shooter inbound for PC gamers based on Shirow Masamune's popular manga series Ghost in the Shell: Standalone Complex. The name of the game is called First Assault and it's made to appeal to fans of Combat Arms.
The new trailer for the game was spotted by Rock, Paper, Shotgun and you can see the minute long mixed-cinematic trailer in action below.
The game puts players in the role of either an elite police squad with high-tech gadgets or terrorist groups attempting to infiltrate the town.
It's a classic team deathmatch MOFPS, mirrored after many of the other games in the sub-genre such as Sudden Strike or Genesis A.D. In fact, First Assault Online shares a lot of similarities with Genesis A.D. insofar that they're both team deathmatch oriented shooters, both of them are set in the future, both of them allow players to make use of advanced augmentations to change the way the battle unfolds and both of them allow players to make use of the environment to get around quickly or break through objects to take down foes. The only major difference between both is that First Assault Online has a more stylish anime art-style to it that helps slightly differentiate it from the horde of other faceless FPS clones out there like Combat Arms and Alliance of Valiant Arms.
As far as the gameplay and skills go, there will be eight different characters that players can choose from, each with their own skillsets and abilities. Players can upgrade and unlock new skills as they progress through the game and rack up points per each round. Nexon announced that developers Neople will also have an implementation into the game that allows players to intersect their skills with other players – tag-team, if you will.
The press release doesn't go into a lot of details about the ability to tag-team but it's called "SkillSync" and using it in tactical ways with teammates will allow players to upgrade their abilities on the battlefield and do additional damage or take further advantage of the augmentations.
Some of the abilities were briefly described in the press release, including making use of Motoko's octo-camouflage similar to Metal Gear Solid IV, or more accurately similar to the original manga and anime where Motoko used it on various occasions to get the jump on foes.
Gamers interested in this Ghost in the Shell free-to-play shooter won't have to wait long at all to get their hands on it. Nexon announced that the closed beta for the game will start on October 1st and run through October 4th. They announced that closed beta sign-ups are currently open and you can register right now over on the official website to some time in with the free-to-play shooter.
Ghost in the Shell: Standalone Complex – First Assault Online is scheduled to fully launch on PC in 2016.
Staff Writer at CinemaBlend.
Your Daily Blend of Entertainment News
Thank you for signing up to CinemaBlend. You will receive a verification email shortly.
There was a problem. Please refresh the page and try again.