Golden-Chrome Xbox One, PlayStation Controllers Become Best Sellers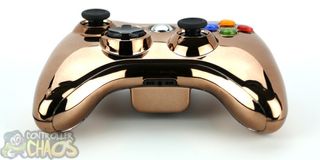 Console modding is a sub-culture all its own. A ton of hardcore gaming enthusiast deck out their console with some super sexy mods to help separate and distinctly add identity to their gaming machine; it becomes a metaphysical extension of the gamer through the artistic representation that the mod(s) adds to the console or controller. Also, the mods just look cool.
Controller Chaos is a dedicated enthusiast website that offers a variety of controller-based modifications. Some of their best sellers at the moment are golden-chrome controllers for the Xbox One and the PlayStation 3. That's not too surprising given that the chrome look makes the controllers look pretty darn snazzy. I mean, check out this pure chrome PS3 controller below.
Now you want to know the real crazy part about the golden-chrome Xbox One controller that's on the best sellers list? It's not even out yet.
Right now Controller Chaos is taking pre-orders for the controller and those pre-orders are what blasted it up on the list. Now I'll be honest, I've never come across Controller Chaos until now, but it's easy to see why the golden-chrome look will have a bunch of gamers drooling at the mouth and a twinkle in their eye. It looks pretty sick.
But it's not just shiny metal-oriented custom designs that the site specializes in. You've got plenty of options to choose from, and tons of custom skin jobs with which to deck out the controller of your choice. Like, check out this blood-stained Xbox 360 controller below.
You also have the option to customizing your button layouts, what colors they are, the colors of the thumbsticks, the D-pad, start button and even the bumper colors.
Controller Chaos is basically the West Coast Customs of controller mods.
As noted on the site, you can also add additional options to the controllers, such as rapid-fire mods, instant-zoom and auto-aim...
Some people might see this as "buying cheats", but if you're paying top dollar for a custom controller and it doesn't affect multiplayer games, then all is fair with game mods and custom controllers. It is something you may have to look into further, though, because most of the mods only state that they affect specific mods in specific games.
Now as for pricing... oh boy, these Controller Chaos custom builds are not cheap by a long shot. As I mentioned, you pay top dollar for these devices.
Right now the Xbox One and PS4 offerings are kind of slim given how new both systems are, but I imagine the pickings won't be so slim as both consoles grow their respective audiences over the next few years.
You can check out the complete website and what it has to offer as far as PS3, PS4, Xbox One, Xbox 360 and Wii U peripherals over on the official Controller Chaos website. If you've already ordered from them, feel free to let everyone know what you think of the controllers in the comment section below.
Staff Writer at CinemaBlend.
Your Daily Blend of Entertainment News
Thank you for signing up to CinemaBlend. You will receive a verification email shortly.
There was a problem. Please refresh the page and try again.