Xbox 360 Slim Bumblebee Transformers Case Mod Destroys All Other Case Mods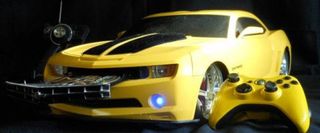 All right, so we've seen some radical case modifications for the Xbox 360 and PS3 over the years, but none of them -- and I really do mean none of them -- compare to the uber-awesomeness of a Bumblebee Transformers case mod for the Xbox 360 Slim.
The Daily What caught a glimpse of a new case mod by custom mod enthusiast, Mark Bongo thanks to a blog called Techna Bob. Bongo released a series of photos, including the one that's the main image of this story, showing off how the case looks from all angles and it is a beaut.
In addition to the photos Bongo also released a new video showing off the features and functions of the modded Xbox 360 and I must say that it is unbelievably awesome. The back of the Bumblebee case is actually a portable screen, meaning that if you can find a place to plug in your 360 you can play it while on the go.
What's more is that the front end of the car is for the DVD drive so there's no worries about whether it can play your favorite games. The one shown off in the video below also has the 250GB HD installed.
The most awesome case mod ever? I think so. You can learn more about the mod and Mark Bongo's creation on his official Facebook Page.
Staff Writer at CinemaBlend.
Your Daily Blend of Entertainment News
Thank you for signing up to CinemaBlend. You will receive a verification email shortly.
There was a problem. Please refresh the page and try again.