Gran Turismo 5 Car Pack 2 Coming December 20th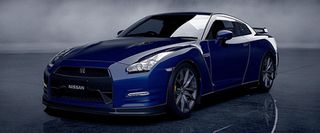 Next week Polyphony Digital will release the second round of downloadable content for PS3 racer Gran Turismo 5. They plan to release Car Pack 2 and Update 2.02 through PSN. You'll receive bonuses even if you're not willing to shell out extra cash.
Car Pack 2 includes the 2011 Mini Cooper S, 2010 Volkswagen Golf VI R, 2010 Volkswagen Scirocco R, and 2012 Nissan GT-R Black edition R35. It's priced at $3.99. If you bought any of the first batch of GT5 DLC, you'll also get the Gran Turismo Racing Kart 125 SP and five New Car Refresh cards for free. These extras will be unlocked by downloading Update 2.02.
Update 2.02 makes several fixes and improvements to gameplay. Polyphony provided an excerpt from the patch notes:
Users can now change wheels on Standard cars
The settings sheets will include a new 'copy' feature
In GT Auto, players will be able to see how the oil changes, aerodynamic parts, engine overhauls, and racing modifications will affect performance points and engine power, before and after their application
Free coupons have been added that allow you to wash cars, change oil, overhaul your engine, or refresh the car body in GT Auto (10 coupons will be distributed for free to each of those who have downloaded the 2.02 update)
Pressing the Square button in the car coupon selection screen of the Car Delivery will now allow you to exchange all car coupons at once, rather than doing one at a time
In screens where the [Garage] and [Driver List] buttons are displayed in the A/B Spec events, Special Events, and Seasonal Events, pressing the Square button will now show the [Garage], and pressing the Triangle button will bring up the drivers list
In My Lounge, the room settings will feature a new 'Max. number of participants' setting
In the event selection screen of seasonal events, there are now ☆(star) marks that show the number of Gold Trophies attained in each event
Improved racing sound effects
Elements of the steering assist controls (used when using certain controllers on Racing Karts) have been tweaked
By simply downloading the update, you'll unlock Toyota FT-86 2012 for your collection.
Image 1 of 7