Grand Theft Auto IV Gets Sky-Diving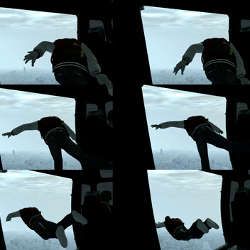 Rockstar Games announced today that a trailer for Episodes from Liberty City, the retail release of Grand Theft Auto IV DLC packs The Lost and Damned and Ballad of Gay Tony, will arrive on September 1st. They also hinted at a major addition to the game included in Tony.
The announcement of the trailer on Rockstar Newswire included an interesting image. The picture shows a character jumping out of an airplane with a parachute on his back. Sky-diving was a popular feature of Grand Theft Auto: San Andreas and it appears the fun-filled activity will make a return in Tony.
You'll be able to purchase Episodes from Liberty City or The Ballad of Gay Tony on October 29th on the Xbox 360.
Staff Writer at CinemaBlend.
Your Daily Blend of Entertainment News
Thank you for signing up to CinemaBlend. You will receive a verification email shortly.
There was a problem. Please refresh the page and try again.