Halo 4 War Games Map Pass Provides Crimson, Majestic, Castle DLC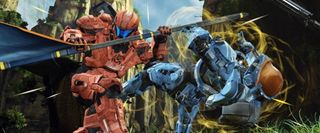 Halo 4, like so many other recent releases, will have a Season Pass for its downloadable content. The War Games Map Pass will give players access to three competitive multiplayer map packs for one price.
The Map Pass is priced at $24.99, or 2000 Microsoft Points. You'll still be able to purchase map packs individually. However, it's 15% cheaper to buy the Pass if you're planning to get all three map packs.
The first DLC, dubbed the Crimson Map Pack, will arrive in December. It provides three maps in total called Wreckage, Harvest and Shatter. An alien moon, human colony, and a battlefield are among the locations you'll travel to.
Majestic Map Pack adds three more maps. Landfall is a seaside battle, while Monolith and Skyline will take you to space and an industrial environment, respectively. That DLC is scheduled for February.
The third map pack, Castle, introduces a mountainside military base (Daybreak), an alien building (Outcast), and urban sprawl (Perdition) for online play. The release for the Castle Map Pack is expected in April.
The Map Pass also comes with a few in-game extras. You'll unlock two uniqe helmets called "Scanner" and "Strider" for your custom soldier. A "Falcon" emblem will be included as well.
If you're planning to buy the limited edition of Halo 4, you won't need to buy the Map Pass. The Pass is included in the $100 bundle along with other digital content.
Update: This article previously stated that the Map Pass was included with the Halo 4 limited edition console bundle. Microsoft has clarified that it's only included with the Limited Edition of the game itself.
Staff Writer at CinemaBlend.
Your Daily Blend of Entertainment News
Thank you for signing up to CinemaBlend. You will receive a verification email shortly.
There was a problem. Please refresh the page and try again.