Halo: The Master Chief Collection Adds ODST Campaign, New Multiplayer Map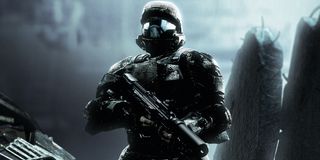 Halo: The Master Chief Collection is being expanded today with an entire new campaign. 343 Industries also introduced a new multiplayer map for Halo 2 Anniversary.
Starting today, players can download a remake of Halo 3: ODST's campaign. This prequel to Halo 3 stars Orbital Drop Shock Troopers rather than Master Chief. Because they're not a Spartan, the Shock Troopers aren't as strong or resilient. They can't regenerate health without stamina packs or wield two weapons at a time. The ODST campaign has a very different feel than other Halo adventures as a result.
For its Xbox One re-release, 343 updated the visuals of ODST. They say it now supports 1080p resolution and runs at 60 frames per second.
Early buyers of Master Chief Collection will be able to download the Halo 3: ODST campaign for free. It's meant as an apology for the game's launch problems. If you bought the game more recently, you'll need to pay for ODST's campaign.
"Players who logged in to their Xbox Live account and played Halo: The Master Chief Collection between Nov. 11, 2014 and Dec. 19, 2014 will receive a download code via their registered email that can be redeemed for the campaign of Halo 3: ODST through Halo: The Master Chief Collection," Microsoft said on Xbox Wire (opens in new tab). "The Halo 3: ODST campaign will also be available as downloadable content for Halo: The Master Chief Collection through the Xbox Store for $4.99."
ODST launched with a co-op mode called Firefight, in which four players fought off waves of enemies. Firefight unfortunately isn't part of this Master Chief Collection update, though. 343 said in the accompanying FAQ that they wanted to focus on making sure the remastered campaign was up to snuff.
The new Halo 2 Anniversary map is "Remnant." This battleground was inspired by the Halo 2 map "Relic." It takes place on a remote island on Delta Halo dominated by an enormous Forerunner tower. Smaller structures and vehicles dot the rest of the landscape. Snipers will have plenty of vantage points for gunning down enemies. 343 says it's well-suited to Slayer, Assault and 1-Flag modes.
Your Daily Blend of Entertainment News
Staff Writer at CinemaBlend.
Your Daily Blend of Entertainment News
Thank you for signing up to CinemaBlend. You will receive a verification email shortly.
There was a problem. Please refresh the page and try again.