Halo 3: ODST Remake Will Be Free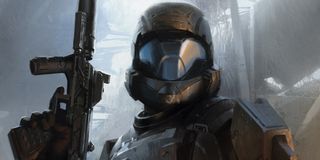 343 Industries head Bonnie Ross says they've been humbled by the launch bugs with Halo: The Master Chief Collection. They want to apologize to the Halo community with a wide range of free gifts.
In Spring 2015, a remake of Halo 3: ODST will be added to Halo: The Master Chief Collection at no additional charge. The remake updates the Xbox 360 game to run at 1080p resolution and 60fps. However, it's limited to the single-player campaign so you won't be able to access its co-op Firefight mode.
To be eligible for the free ODST remake, you need to have played Halo: MCC online by December 19th. 343 may sell it separately to owners who aren't eligible in the future. They haven't announced any specific plans to do so, though.
Additionally, all Halo: MCC players will soon get the map "Relic" for Halo 2 Anniversary's multiplayer for free. This classic map has been rebuilt at 1080p resolution and 60fps.
"We chose this map based on its suitability for Slayer and Objective modes and its ability to support teams of varying sizes," Ross said on Halo Waypoint. "And you can trust that Certain Affinity will tune and tweak the map to make it even better than you remember."
On top of all that, anyone who played The Master Chief Collection by December 19th will get a free month of Xbox Live Gold. These early adopters will stand out in multiplayer thanks to an exclusive nameplate and avatar. The free month will be delivered "as early as mid-January 2015." The nameplate and avatar should arrive in a content update this month.
Next week brings another big addition to The Master Chief Collection: the Spartan Ops campaign for Halo 4. These co-op missions are set after the events of Halo 4's main story and focus on the crew of the UNSC Infinity. All 10 missions will be available at once to download.
While these free gifts are nice, I'm sure that most players would prefer a fully functional game. Ross reassured the community that bug fixes are still their priority.
"Last month, I promised the Halo and Xbox community that addressing the matchmaking issues and other bugs impacting players' experience with Halo: The Master Chief Collection was our #1 priority. We've been working around the clock deploying weekly content updates and numerous server-side adjustments that have shown good results and we're encouraged by the feedback we're hearing from you. Another big challenge was met when we added fan-favorite playlists, such as SWAT and Halo: CE, back to our matchmaking menu and we plan to add more soon."
Arguably the most exciting thing on the horizon for Master Chief Collection owners is the Halo 5: Guardians beta. This taste of the game's multiplayer will go live on December 29th and run through mid-January.
Staff Writer at CinemaBlend.