Hearthstone Season 4 Begins, Naxxramas Card Back Revealed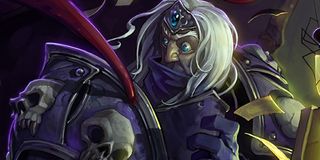 Update: Season 4 is now live. Blizzard has confirmed that the Naxxramas card back will be the new reward.
"Add the Naxxramas card back to your collection by hitting Rank 20 in Ranked Play mode. The Naxxramas card back will be awarded to you at the end of July's Ranked Play Season."
Here's a better look at the card:
Original article: Season 4 of Hearthstone: Heroes of Warcraft's Ranked Play is about to begin. If you're planning some last-minute push through the rankings of Season 3, you've got less than two days to make your move.
Like previous seasons of Ranked Play, Season 4 will begin with a wipe of all players' ranks from Season 3. For each rank you moved up in S3, though, you'll get a bonus star toward your progress in the new season though. If you're an elite player, then, you'll get a nice headstart on your path to Legend.
Hearthstone Season 3 allowed players to earn a special Rainbow card back by hitting Rank 20. This back will appear in your inventory on July 1st when Season 4 launches. If you don't hit Rank 20 by then, you'll miss out on this reward.
Blizzard promised that Season 4 will offer players a new card back to earn. However, they haven't revealed it yet. They've used all five of the card backs they revealed in beta so whatever the new back is, we haven't seen it before.
Or maybe we have seen it. One of the leaked screenshots from upcoming expansion Curse of Naxxramas showed cards with a purple and green back. Check it out:
In that image, those cards are in the hand of an A.I. enemy. There's no confirmation that players can use them. It would be a bit cruel for Blizzard to show that card design to us without giving us a chance to earn them, though, right?
A Naxxramas-themed card back for Season 4 would make sense. Curse of Naxxramas is scheduled to launch in July as well. What better way to celebrate its release than a new unlockable?
Blizzard said that they'd announce price details for Curse of Naxxramas on the first day of Season 4. Yesterday, they walked back that promise though.
"I know everyone is really excited for any and all information regarding Naxxramas," said community manager Aratil on Hearthstone's official forums. "We're doing our best to get it into your hands as soon as possible. However, it turns out we're actually not going to be quite ready to announce Naxxramas pricing on July 1st as I previously mentioned—we do still want to announce more Naxxramas information soon, but I'm afraid it won't happen on July 1st. We'll get the details to you as soon as we have finalized information to share."
Though we'll have to wait a little longer for the full details on Naxxramas, at least we'll have a new race to Legend to distract us. Best of luck, everyone!
Staff Writer at CinemaBlend.
Your Daily Blend of Entertainment News
Thank you for signing up to CinemaBlend. You will receive a verification email shortly.
There was a problem. Please refresh the page and try again.