Hell Invaders Announced For PC, Linux, Mac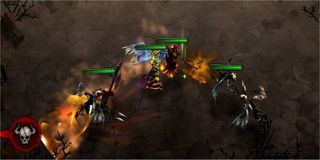 Spicy Horse is fresh off their Kickstarter for Akaneiro, and now they're moving on to greener pastures with the CCG/RTS, Hell Invaders for PC, Mac, Linux and mobile tablet devices.
As noted in the press release...
The is an isometric style title that puts players in charge of minions from the underworld, commanding legions from hell in form of cards. That's an interesting spin on the Pokemon concept, eh?
Players can build up their card's strength, form a posse of undead badasses and then take that party into combat to lay waste to all who stand in their way. It's like Yu-Gi-Oh! for adults...or a version of the game where you don't have to feel embarrassed to be playing it if you are an adult.
There are some brand new screenshots available for Spicy Horse's recently announced Hell Invaders. The company is definitely taking things slightly slower after their Alice: Madness Returns release and hopefully they can build back up some capital with smaller, niche titles. You can learn more about the game by paying a visit to the official website.
Image 1 of 5
Image 2 of 5
Image 3 of 5
Image 4 of 5
Image 5 of 5
Staff Writer at CinemaBlend.
Your Daily Blend of Entertainment News
Thank you for signing up to CinemaBlend. You will receive a verification email shortly.
There was a problem. Please refresh the page and try again.