Here's How To Get A Free Mew In Pokemon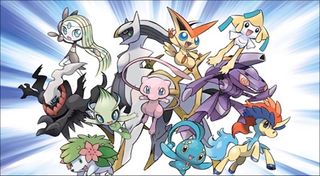 Nintendo has been giving away free legendary Pokemon in their Pokemon games since last year. They've been giving away these legendary Pokemon as part of the 20th anniversary celebration for the property, and they're circling back around to Mew as the free legendary that they're giving away for this month.
Over on IGN they updated the event page for Mew to reflect that the Pokemon is free for those of you who have Pokemon Omega Ruby, Pokemon Alpha Sapphire, Pokemon X or Pokemon Y. If you have Pokemon Gold or Silver or anything before X or Y, you're fresh out of luck and won't be able to get the free Mew.
If you want to retrieve the free Pokemon, simply head to the Delivery Woman at any of the Pokemon Centers located within the game. Be sure that you have a free slot on your team made available for an extra Pokemon, so deposit some Pokemon to the bank if you have to, but make sure you've got a free slot. From there, proceed to talk to the Delivery Woman to get your free Mew.
The IGN wiki page offers a hint on how to get certain stats out of the Mew you retrieve from the Delivery Woman. For instance, it's possible to save the game before you talk to the NPC and this way when you do talk to her you can get specific stats on your Mew at random, so if you save before you talk to her and then get a Mew you don't like, simply reload the game and try again until you get something you do like. After getting the Mew and it's not to your liking, do not save the game. Instead, do a soft reset by holding down the left and right bumpers plus start or select until the game resets. Reload your saved game and try again.
The Mew will be available for free between May 25th, 2016 and August 31st, 2016. The codes will be distributed in three different ways, either at GameStop locations, GAME locations (if you live in the U.K.) or through the free trainer newsletters. You can retrieve the special code for Mew through the newsletter if you sign up for it before June 1st, 2016.
The code will be delivered through the newsletter for the aforementioned Pokemon games, including Omega Ruby, Alpha Sapphire, X or Y.
If this seems like a bit of deja vu for you that's because it is. According to the official Pokemon website, Mew was originally available for free in the listed Pokemon games back in February of this year. Nintendo 3DS and 2DS owners managed to get their hands on the free Pokemon as part of the 20th anniversary celebration for the Pokemon brand.
Nintendo will be handing outfree Pokemon as part of the celebration all year long, so continue to stay tuned in to see how you get a hold of the next legendary Pokemon.
Nintendo will be releasing two more games this year as well, including Pokemon GO and Pokemon Sun and Moon. In the meantime, be sure to grab the free Mew before it goes away on August 31st.
Staff Writer at CinemaBlend.
Your Daily Blend of Entertainment News
Thank you for signing up to CinemaBlend. You will receive a verification email shortly.
There was a problem. Please refresh the page and try again.