Here's How You Can Get A Fallout 4 Vehicle In Forza 6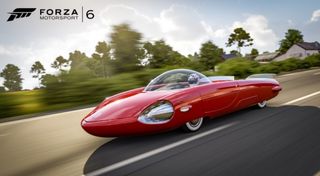 Microsoft, Bethesda and Turn 10 Studios have partnered together to give Forza Motorsport 6 fans an opportunity to race around the tracks with the new Chryslus Rocket '69 from Fallout 4. The car can be obtained simply by playing Fallout 4 or Forza 6.
The news was posted up over on the Xbox Wire (opens in new tab) where they revealed that anyone who has played Turn 10's latest Forza Motorsport or Bethesda's open-world post-apocalyptic action-RPG using their Xbox Live profile are automatically eligible for receiving a free code to add the Chryslus Rocket '69 to their stable of cars in Forza Motorsport 6.
Microsoft is sending out the free codes today and they say that it can take up to seven days to receive a code. Anyone who purchases Fallout 4 or Forza 6 after April 14th but before April ends, will receive their codes sometime during the early part of May, next month.
For those of you who have not seen the car in action, they released a retro-themed trailer showcasing the Chryslus Rocket '69 in action that you can check out below.
The car comes from the pre-apocalypse days of Fallout,but you might have spotted some of the vehicles scattered throughout the wasteland as you journey through the destroyed and debris-filled Boston area.
Given that the vehicles are powered by mini-fusion reactors they're prone for blowing up in Fallout 4. Hopefully the same fate doesn't befall racers in Forza Motorsport 6.
The trailer states that the car can hit speeds exceeding 200mph but I wonder if that's just a talking point or if the car can actually go that fast? Given the weird control stick and odd body design, it doesn't look like the Chryslus Rocket '69 would be very good at taking sharp corners or weaving through chicanes without spinning out, but it will be funny to see how well it behaves in online races.
Now that the retro-futuristic car is available in Forza 6, I do wonder if the partnership will see more specialty vehicles from Fallout make an appearance in the Xbox One racing title? I know some racing purists probably wouldn't want the game filled to the brim with a bunch of fantasy cars, but it's still cool to see some of these neat conceptual racing vehicles make an appearance in Turn 10's game.
Gran Turismo also used to have a few out-of-the-norm concept cars and custom racers in the game, so it's cool to see that Microsoft is taking an opportunity with expanding their horizons when it comes to licensing and putting some lighthearted fun back into their games.
You can take advantage of the promotion right now. They don't say exactly how long you have until this promo ends, but getting your hands on a free Fallout 4 car in Forza 6 is a nice little gesture from Microsoft, Bethesda and Turn 10.
Staff Writer at CinemaBlend.
Your Daily Blend of Entertainment News
Thank you for signing up to CinemaBlend. You will receive a verification email shortly.
There was a problem. Please refresh the page and try again.