Heroes Of The Storm Founder's Pack Probably Isn't Worth The Money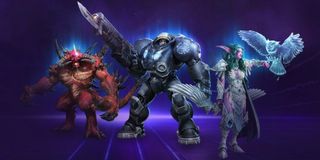 Today Blizzard put the rumored Founder's Pack for Heroes of the Storm on sale. This $40 bundle offers guaranteed beta access but you probably shouldn't buy it.
Here's the in-game content you're getting for your $40 (via Blizzard):
Heroes: Raynor, Diablo, and Tyrande
Skins: Commander Raynor, Lurkablo Diablo, and Blood Elf Tyrande
Mount: Golden Cyber Wolf
2,500 in-game gold to help unlock additional Heroes and other content
Immediate access to Heroes of the Storm, beginning with the closed beta test
If we look at the cash prices for the items you can individually purchase within the game, it seems like you're getting a good value:
Heroes: $5 + $10 + $8.50 = $23.50
Skins: $7.50 + $10 + $10 = $27.50
Just based on that quick analysis, you're saving $10 by getting the Founder's Pack instead of purchasing those items on their own. Plus you're getting a special mount, a small pile of gold and your guaranteed beta key. Great value, right?
Well, no. Let's be honest: the skins aren't a mandatory purchase. They're just costumes for your characters. Skins only make sense if you're tired of looking at your characters and you're not tired yet because you don't even have the game.
The heroes, arguably the most useful parts of the package, aren't mandatory either. Let's not even get into the specifics of these three characters, who in my opinion aren't all that great. New players don't need any unlocked characters. They have access to a rotating set of five characters (and eventually seven once you've leveled up enough). You don't need to permanently unlock any characters yet, especially before you've played the game and developed a preference for one class or another. Blizzard is still adding heroes to the game so you may find these three completely unnecessary for your collection.
The 2,500 gold is nice but it's less than you expect. The lowest tier of Heroes cost 2,000 gold while the most expensive ones are 10,000. While it may take many matches or daily quests to earn 2,500 normally, what you're paying for here is an in-game currency that you don't currently have a concrete purpose for. This is silly because there will be two likely outcomes when you jump into Heroes of the Storm: 1) you love it and will be willing to play more matches to get gold normally, or 2) you hate the game and won't have any need for gold because you'll quit.
This Founder's Pack only makes sense if you really want to get into the beta right now. Keep in mind what you're doing, though. You're paying $40 for the right to try a game you might hate, a game that you will be able to play for free in a matters of weeks or months. That's a pricey gamble you don't need to make, and I say that as someone who actually enjoys Heroes of the Storm. It's different enough from competitors like Dota 2 or League of Legends to make a long-time MOBA fan either love or hate it.
If you gave into temptation and bought the Founder's Pack, though, read our guide for some tips on how to get started in Heroes of the Storm.
Staff Writer at CinemaBlend.
Your Daily Blend of Entertainment News
Thank you for signing up to CinemaBlend. You will receive a verification email shortly.
There was a problem. Please refresh the page and try again.