Hot Shots Golf Gets Kat, New Characters And New Courses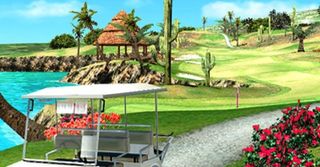 Hot Shots Golf: World Invitational is hitting the links once again, bringing along a large selection of DLC content including new modes, new courses and new playable characters including Gravity Rush's Kat.
After clearing the Nevi out of Hekseville in Gravity Rush and pummeling fellow game mascots as a DLC character in PlayStation All-Stars Battle Royale, it looks like Kat likes to unwind with a nice, relaxing game of golf, very similar to Tiger Woods but without all the whoring around. Kat will be joining fellow Hot Shots newcomers Gloria and Erika as DLC characters, each going for $0.99 following next Tuesday's PlayStation Store update.
Along with new playable characters will come new playable courses. The Mt. Sakura and Northern Fox courses will make a return from previous Hot Shots games, both completely revamped and made to look nice, shiny and new for the PlayStation Vita. Along with these oldies but goodies will be a brand new course to try out, Mar Cielo. Each course will be $2.99 in next week's PSN update.
You could also just buy all three characters and all three courses bundled together for $11.99, with PlayStation Plus subscribers saving 25 percent ($8.99).
This new paid content should complement the recent patched-in content, revealed through the PlayStation Blog.
The latest World Invitational update introduces several game enhancements, including a Turn Based Challenge that allows players to compete in up to 20 different asynchronous golf tournaments at the same time. This way players can enjoy a full round of golf one hole at a time if they don't have the ability to get in a full round in one sitting, and you can even send each other messages along with each shot.
A four-player stroke mode has also been added, as well as a slot machine online mode that applies a random handicap to each hole to help keep things fresh. Finally, a new visual lobby has been added to the online space.
Staff Writer for CinemaBlend.
Your Daily Blend of Entertainment News
Thank you for signing up to CinemaBlend. You will receive a verification email shortly.
There was a problem. Please refresh the page and try again.