It's Official: Microsoft Removes Xbox One DRM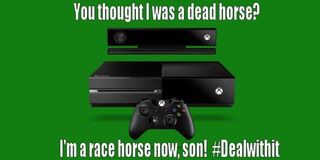 Uh oh, it looks like the console war just got real, y'all.
Your cries have been heard folks. The campaigns, the polls, the pre-order lists, the forum board complaints, the Reddit threads, the chat room debacles and the Best Buy spybox defamation has all led up to this moment: Microsoft has officially canceled the digital rights media restrictions for the Xbox One.
After Sony won the crowd over at E3 by making it official that the PlayStation 4 would allow for used games, would not have a 24 hour mandatory check-in and that lending, sharing and gifting games would work just the way they always have in previous generations, Microsoft received a beating worse than Ken Shamrock at the hands of Tito Ortiz. The console war for Microsoft was lost before it even began.
However, today, Microsoft Interactive Entertainment Business executive Don Mattrick sent out a statement clarifying their policies for the Xbox One, and all the DRM has been completely reversed, as noted by Joystiq.
Mattrick's address states that...
That's right, Mattrick goes on to explain that the 24 hour mandatory check-in has been wiped out, something the U.S. Armed forces were worried about. Any online requirements are gone and you can play games offline without requiring an internet connection. Games being attached to accounts as licensed software is no longer an issue and has also been exterminated like the Native Americans when all those Europeans brought those diseases with them back in the 15th century. Microsoft also let everyone know that you can lend, share, trade and gift games like you were Santa on Christmas. Merry Christmas, mofos...Merry F'n Christmas.
If I must say so myself, Mattrick just dropped an atom bomb on Sony after repeatedly using a spiked heel to reverse kick himself in the balls so many times before. The fall console war is now back on and Nintendo better unleash some mean guns, as things will now heat up like Brock Lesnar taking on CM Punk at Summerslam. The biggest difference between the two is that there's no way to tell who will walk out the victor this fall now that Microsoft stopped using a Gatling gun on their own two feet and started firing bullets at the competition for the first time since the Xbox One was officially announced.
The only hurdles now that the Xbox One faces is dealing with Kinect and the price. But at least the console is no longer committing suicide and we have to give Microsoft some major props for that. It should also be noted that there's still a one-time online activation requirement for the console but since they've removed the online region restrictions, you could technically activate the console at home and then bring it with you wherever you go without worrying about requiring an online connection.
With the Xbox One's policies done and finished and the company doing a complete role reversal, I can honestly say that as a gamer it feels like an anti-consumer yoke has been lifted up off the shoulders of the gaming community. To that, I say, may the best console win.
(And please Microsoft, don't do a douche thing and re-activate the DRM after you get like a 70 million user install base with the Xbox One. You just won an internets...don't blow it.)
Staff Writer at CinemaBlend.
Your Daily Blend of Entertainment News
Thank you for signing up to CinemaBlend. You will receive a verification email shortly.
There was a problem. Please refresh the page and try again.