JAWS: Ultimate Predator Coming To Wii, 3DS In Late November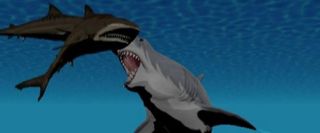 Just in time for the holiday season sales rush, JAWS: Ultimate Predator will be arriving for the Nintendo Wii and 3DS in late November. Gamers looking for pointlessly trivial fun playing as a great white shark might find just what they're looking for in the open-water hunting game.
Majesco announced that this newest JAWS game will feature enhanced gameplay, visuals and collectibles over the previous JAWS game…
The game seems incredibly eh…well, Wii'sy. But if that's the kind of thing you're looking for then that's probably what you'll get when JAWS launches next month, competing with other heavy hitters such as Call of Duty: Modern Warfare 3 and The Need For Speed: The Run.
You can check out the new screenshots and the gameplay trailer for JAWS: Ultimate Predator below. To learn more about the game be sure to visit the Official Website.
Staff Writer at CinemaBlend.
Your Daily Blend of Entertainment News
Thank you for signing up to CinemaBlend. You will receive a verification email shortly.
There was a problem. Please refresh the page and try again.