Kneel Before Zod In DC Universe Online Update 6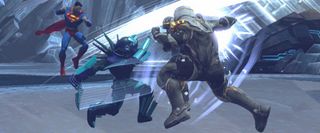 Today Sony Online Entertainment released the sixth major content update to DC Universe Online today. Game Update 6: The Deadly Double Cross is the third and final entry in the Fortress of Solitude raid series.
The Deadly Double Cross begins with players trapped in the Fortress of Solitude. Their former ally, the Kryptonian General Zod, has gained control of the Sun Crystal Matrix Chamber. Players must team up with Superman and Lex Luthor to defeat Zod and his minions Non and Ursa.
The eight-man raid adds plenty of new loot for you to earn. You'll acquire Kryptonian Military weapons as well as pieces of the Avatar set.
DC Universe Online went free-to-play two weeks ago. There are still optional premium features, but this raid isn't one of them. You can download it for free no matter what type of account you have.
Image 1 of 5
Image 2 of 5
Image 3 of 5
Image 4 of 5
Image 5 of 5
Staff Writer at CinemaBlend.
Your Daily Blend of Entertainment News
Thank you for signing up to CinemaBlend. You will receive a verification email shortly.
There was a problem. Please refresh the page and try again.