L.A. Noire Selected By 2011 Tribeca Film Festival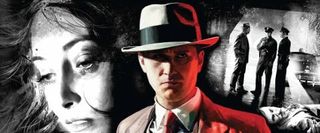 Rockstar Games revealed today that L.A. Noire has been named an Official Selection at the 2011 Tribeca Film Festival. Noire is the first video game to ever been honored by the festival.
"What Rockstar and Team Bondi have accomplished with L.A. Noire is nothing less than groundbreaking," said Tribeca Enterprises chief creative officer Geoff Gilmore. "It's an invention of a new realm of storytelling that is part cinema, part gaming, and a whole new realm of narrative expression, interactivity, and immersion. We are poised on the edge of a new frontier."
Rockstar will hold an exclusive preview of Noire during the Tribeca Talks series on April 25th. They'll do a live demo of the game and then hold a Q&A. The Q&A will focus on the development of the game, the technology, story-telling in video games, and the crossover between film and interactive entertainment.
In addition to being a prestigious honor, the Tribeca nod is a nice bit of publicity for L.A. Noire and its upcoming release. The game will arrive on May 17th in North America and on the 20th in Europe.
Staff Writer at CinemaBlend.
Your Daily Blend of Entertainment News
Thank you for signing up to CinemaBlend. You will receive a verification email shortly.
There was a problem. Please refresh the page and try again.