The Last Of Us Offers Survival And Post-Pandemic Special Editions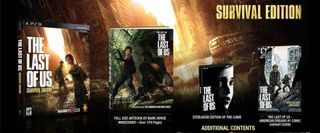 The Last of Us hits store shelves on May 7 but, before you decide to simply go out and buy the normal, vanilla, boring version of the game, Naughty Dog has a couple of special editions you might want to consider first.
In The Last of Us, the player follows the story of Joel and Ellie, a pair of haggard companions who are struggling to stay alive in an America gone mad following a fungal outbreak that has turned most of the world's population into mindless, bloodthirsty monsters. It wouldn't be all that bad if half of the remaining humans weren't so willing to stab you in the back for a can of beans, too.
Coming from the makers of the Uncharted series, The Last of Us looks to mix a familiar blend of stealth and gunplay with the vivid characters and amazing stories the developers at Naughty Dog have become known for. And now that the game is nearing its exclusive release on the PlayStation 3, the developers have pulled back the curtain on a pair of special editions perfect for the collector with a little extra money to burn.
First up is the Survival Edition. If you pre-order this version of The Last of Us, you'll get a steelbook edition of the game, an art book featuring more than 170 pages of images, a copy of the first issue of the American Dreams prequel comic, as well as a "Sights and Sounds" DLC pack that includes the official game soundtrack, a PS3 dynamic theme and PSN Avatars of Winter Joel and Ellie. This pack will set you back $79.99 and can be pre-ordered pretty much wherever you usually like to get your games.
The Post-Pandemic Edition, however, will only be available at GameStop. This $159.99 collection includes the steelbook edition of the game, the comic and, instead of an artbook, a 12" statue featuring Joel and Ellie. You'll also get the entire Sights and Sounds DLC pack, as well as a "Survival" DLC pack that includes multiplayer bonuses like an XP boost, a melee booster, in-game currency, bonus skins for Joel and Ellie and customizable character items.
Look for The Last of Us to hit PlayStatoin 3 on May 7. If one of these special editions has caught your fancy, however, you might want to go ahead and pre-order your copy now. For a better look at what each version offers, head on over to the PlayStation Blog.
Staff Writer for CinemaBlend.
Your Daily Blend of Entertainment News
Thank you for signing up to CinemaBlend. You will receive a verification email shortly.
There was a problem. Please refresh the page and try again.