Logitech G602 Wireless Mouse Switches Between Performance, Endurance Mode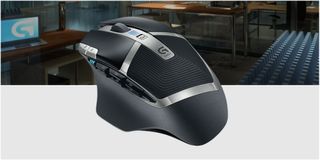 If you need a mouse that can handle more than just the typical MMO grind or a mouse that's ready to take on a quick succession of opponents back-to-back, and you need both precision and reliability at the core of the mouse's functionality, then Logitech may have an answer for you with the G602.
The company recently announced that the G602 is made for the long haul, with a battery life of 250 hours in Performance mode and a non-gaming battery life of 1400 hours when placed in Endurance mode.
This is one of those devices where it's made to suit the needs of more than just gamer, which is completely understandable in the realm of PC users, where you're sometimes going back and forth between doing work and playing games, and your rig actually serves multiple purposes as a true multi-tasking machine.
According to Ehtisham Rabbani, general manager of the Logitech gaming business group...
The Endurance mode isn't just a name or a moniker for the battery life, either. The mouse has been built sustainably across all facets of useability, including mouse buttons that has been designed to sustain more than 20 million clicks throughout the lifespan of the mouse. That's pretty good.
Toss in 11 programmable controls, custom button configurations and wireless comfort, and you have yourself a decently reliable mouse for more than just word processing. The G602 will be made available this September for $79.99.
Logitech also announced that they have a new G240 cloth gaming mouse pad and a new G440 hard gaming mouse pad. The cloth pad is designed for low DPI gaming and provides 1mm rubber to help high-precision headshot artists land the necessary kill-shots they need to win the game.
The G440 focuses on low-friction amour between your mouse and the gaming pad. Featuring fine-textured polypropylene and a high-impact polymer core, both your mouse pad and mouse will be making sweet, sweet, wireless love all day and night long. Providing you with all the comforts and joys high performance mouse handling you could possibly enjoy.
The G240 cloth pad will be available for $19.99 and the G440 hard pad will be available for $29.99.
You can learn more about Logitech's new line-up of gadgets and gizmos by paying a visit to their official website.
Your Daily Blend of Entertainment News
Staff Writer at CinemaBlend.