Logitech Announces New Keyboards, Mice, Headsets Set To Arrive In April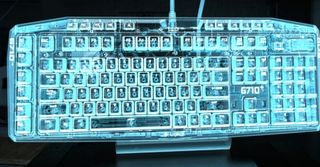 Logitech has announced that they have eight brand new peripherals coming out for PC gamers, yes eight. They have two headsets, two keyboards and four mice. The line-up of gaming gear is expected to release Stateside beginning next month in early April and each of the peripherals are also scheduled to launch in May.
Coming off the company's previous announcement of focusing more on mobile devices, Ehtisham Rabbani, general manager of the Logitech gaming business group, mentioned that...
Logitech has a G700 Rechargeable Gaming Mouse, which is a wireless device with 13 programmable buttons and a micro-USB cable to recharge the mouse's battery. The mouse carries a $99.99 price tag.
The G500s Laser Gaming Mouse has a hyper-fast scroll wheel, pixel-precise targeting between 200DPI and 8200DPI. Since the G500s is wired the device carries a $69.99 price tag, aiming to give BMW's M 10 gaming mouse a run for its money in terms of functionality and price.
The Logitech G400 Optical Gaming Mouse is a transparent beast that follows on the heels of Logitech's MX518 design. There are eight programmable buttons, and a range between 4000DPI and 400DPI. The G400 will be available for $59.99.
The last of the new mice announced is the G100, which features exclusive Delta Zero technology and a 20-million click lifespan. The primary and secondary buttons also have fingerprint resistant coating to prevent fading or scuffing. The G100 is designed to be ambidextrous and will carry a $39.99 price tag.
Up next are the two keyboards and while they aren't the G710+ they still aim to get it done. The Logitech G19s Gaming Keyboard carries a GamePanel LCD, 12 programmable G-keys and two high-speed USB 2.0 ports for additional accessories. The G19s carries a $199.99 price tag.
Logitech's G510s Gaming Keyboard has up to 54 different functions across three different modes. A custom color backlighting feature doubled with a backlit GamePanel LCD would probably spark the interest of any gamer who games late into the night and needs a little desk-side illumination. A hydrophobic coating on the desk panels are also designed to keep sweaty palms from sticking to the keyboard's surface and a UV coating on the keys and it carries a $119.99 price tag.
The last two items are the headsets, the G430 and the G230, both sporting noise-canceling microphones, high-quality speakers and comfortable ear-cups. The G430 has 7.1 surrounding sound support while the G230 sports 40mm speakers. The G430 carries a $79.99 price tag while the G230 has a $59.99 price tag.
You can learn more or pre-order the devices by visiting the Official Logitech Website (opens in new tab).
Staff Writer at CinemaBlend.
Your Daily Blend of Entertainment News
Thank you for signing up to CinemaBlend. You will receive a verification email shortly.
There was a problem. Please refresh the page and try again.