Lucius: Creepy Horror Survival Game Coming Q1 2011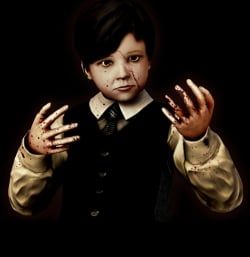 Lace Mamba Global and Shiver Games are working on bringing a worldwide audience of gamers a new kind of horror game called, Lucius, which is due out next year. The game sees players assuming the role of the Devil's son, Lucius, as he attempts to rid a mansion of its inhabitants without anyone suspecting that it's him.
Johannes Aikio, CEO of Shiver Games shed a few comments about the partnership, saying…
Gamers will control Lucius and aim to get rid of the mansion's occupants without anyone suspecting that it's the devil's son. If players are continually successful in their ventures to scare off the inhabitants, then they will be rewarded with special powers to enact mind control or use psychic abilities to pick up and throw things around.
The game sounds like that silly game from way back in the day on the SNES where you had to scare people out of the house using ridiculous and comical efforts to achieve the goal. Only this time, there's nothing really comical about that creepy little kid in the picture. Anyway, you can learn more about the game by visiting the Official Website. Lucius is set for a first-quarter release in 2011 for the PC and Mac.
Image 1 of 4
Your Daily Blend of Entertainment News
Staff Writer at CinemaBlend.