Mad Max Developer Expands Studio Space, Offers Surprises For 2015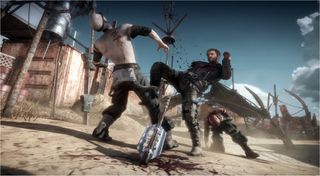 The company behind the upcoming Mad Max game and the inevitable Just Cause 3 has recently expanded their game studios. While many other outlets out there are shrinking and closing up shop, Avalanche Studios is actually doing just the opposite: expanding, expanding... and expanding some more.
The company sent out a press release indicating that they are moving into a 3,000 square meter space at the top of a brand spanking new building. This will give their 160 employees more room to move around in and conduct their developmental business. What's more is that the new building is actually just a short ways away from their original office, offering a short trip for employees to the new location.
Marco Checchi, a partner at Studio Stockholm commented about the new change, saying...
"While we are moving to a brand new space, it's important for us to remain in the hotbed of game development talent that is central Stockholm, said Fredrik Sjöö, COO of Avalanche Studios . Working together with Vasakronan and the architects at Studio Stockholm is incredibly inspiring. I can't wait to realize our collective vision and create a space worthy of the industry's top talent. This is a very exciting opportunity,"
"Avalanche Studios' distinct outward attitude coupled with a warm and welcoming working atmosphere makes them unique in the games industry. We intend to manifest that duality in a physical space."
Avalanche Studios is probably best known for their work on the now incomparable Just Cause series. Even though it's not quite as big as GTA or as publicized as Saints Row, the game has taken on a meta-culture all its own thanks to the bustling multiplayer mod that was released for the game. Even more than that, the mod helped Just Cause 2 generate more than 500,000 active users each month.
The game even received a pretty big boost in sales thanks to the multiplayer mod, which eventually evolved into this organic, creative growth that's almost trying to rival the likes of Minecraft. In fact, the latest update added in a feature to build structures and objects.
It's expected that 2015 could play host to the launch (or at least the announcement) of Just Cause 3, a game that's long been in development at Avalanche Studios and probably benefiting greatly from the studio expansion. As mentioned in the press release...
What's more is that Mad Max is also expected to become more pronounced throughout 2015, enabling the studio to line-up a launch of the game with the upcoming George Miller film, Mad Max: Fury Road.
We won't know for sure what Avalanche has in store until 2015 draws nearer, but it definitely seems like gaming will be booming, growing and expanding throughout the following year. There are plenty of big name hitters planned to launch, and Avalanche Studios seems to be right in the midst of all the action.
Hopefully we can see some more gameplay footage and promotional material of Mad Max before 2015 gets here, but I'd like to expect to see or hear something about Just Cause 3 by early next year... hopefully. You can learn more about Avalanche Studios and their projects by visiting the official website.
Your Daily Blend of Entertainment News
Staff Writer at CinemaBlend.