Madden NFL 15 Is Free On Xbox One For Limited Time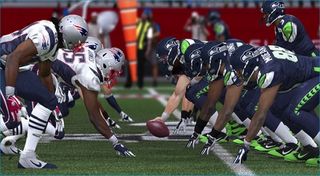 Limited trials and demos of already released games seems a little redundant, but if it can help a game sell then sometimes it's better to arrive later than to never arrive at all. In the case of Madden NFL 15, EA is most certainly in the camp of better late than never.
IGN managed to get confirmation that the demo for Madden NFL 15 is available worldwide to gamers looking to get in some virtual pigskin action leading up to the Super Bowl this year.
As revealed on the official Twitter account for EA's Madden NFL...
Over the course of the weekend you can get in some free game time with Madden NFL 15... but only six hours worth of game time.
That's right, the demo is not only limited in its availability but also limited in play time.
And yes, as mentioned near the top of the article, IGN did confirm that even those of you outside of North America will be able to get your hands on the limited, timed-trial for the game, writing...
One thing that really boggles my mind is why are there limited, timed-demos being made available for games already out on the market?
It makes sense to have a limited trial for a game before it releases so that people get amped up for the experience and can't wait to buy the full game when release day rolls around. But it makes very little sense, in my opinion, to make a limited, timed-trial available of a game that's been on the market for more than six months already. I mean, if people didn't know about it six months ago and didn't think to buy it then, would making a limited demo – that most people would likely miss over a single weekend – make them change their minds?
Of course, this could be part of the conjoined efforts between Electronic Arts and Microsoft to further help bolster the appeal of the Xbox One. Microsoft has been pulling out every trick in the book lately to win over the market share in North America, and I can't blame them given how poorly the Xbox One was perceived in many of the hardcore markets back in 2013 (my how time flies).
Microsoft and EA also teamed up for the EA Access, a digital download service that provides gamers with exclusive access and discounts to titles published under the Electronic Arts label. In fact, members of EA Access were given privileges to play the limited demo of Madden NFL 15 way back when it was relevant in mid-August. So it's more like the rest of Xbox One owners being tossed a few of the demo scraps of EA Access members.
You can grab hold of the demo right now up until Monday, January 26th.
Staff Writer at CinemaBlend.
Your Daily Blend of Entertainment News
Thank you for signing up to CinemaBlend. You will receive a verification email shortly.
There was a problem. Please refresh the page and try again.